You are here
Gov't mulls 'one-card system' for disbursing aid to impoverished families
Jordan seeks to draw on WFP's experience with Syrian refugees
By Khetam Malkawi - Nov 20,2016 - Last updated at Nov 20,2016
AMMAN — Jordan will draw on the World Food Programme's (WFP) experience in issuing cards for impoverished Jordanian families who receive assistance from different entities, a government official said on Sunday.
Some underprivileged Jordanian families receive cash or in-kind assistance from different agencies, but the idea of the "one-card" system is to facilitate assistance provided to them and avoid duplication.
The card is a tool first developed by WFP Lebanon in 2013, and introduced in Jordan in 2014, through which the UN agency provides assistance to Syrian refugees.
The tool is a re-usable and re-loadable plastic prepaid card with a magnetic strip. The electronic platform is managed by WFP and enables financial transactions in partnership with banks.
At a meeting of government and WFP representatives on Sunday, Minister of Planning and International Cooperation Imad Fakhoury said the use of this card would contribute to the safety net provided to Jordanians and it would be also linked to the unified registry system.
The unified registry system is a survey that the ministry works on and covers 22,000 underprivileged Jordanian families across the Kingdom.
The WFP card allows beneficiaries to receive assistance in the form of both electronic value transfer, and an optional cash withdrawal through ATMs.
Beneficiaries are thus able to cover food, non-food and cash needs through one single electronic pre-paid card.
Details of beneficiary spending patterns can be provided to partners through the card, allowing for greater analysis on the impact of the programmes on beneficiaries.
Fakhoury noted that the proposed partnership with the WFP and adopting this card would contribute to improving the level of coordination between the different ministries, entities and NGOs in all governorates.
WFP Regional Director Muhannad Hadi said that the agency will place its experience and knowledge at the disposal of Jordan. He added that up to 2 million families in the region's countries are benefiting from FAO assistance through this card.
He added that WFP hopes to transfer the management of the one-card system to the Jordanian government by July 2018.
Meanwhile, Mageed Yahia, WFP representative and country director, said a committee will be formed with representatives from the government to come up with a mechanism for the transfer of knowledge and to identify the families that would benefit from the card.
He told The Jordan Times on the sidelines of the meeting that a vulnerability assessment will be conducted for that purpose.
A presentation by WFP during the workshop showed that since adopting the one-card system to provide assistance to Syrian refugees in Jordan, the programme injected $540 million into Jordan's markets.
up
40 users have voted, including you.
Related Articles
Jan 12,2015
Syrian families in the Zaatari and Azraq refugee camps have started purchasing winter clothes for their children thanks to a winter cash assistance programme launched by UNICEF in partnership with WFP last Wednesday.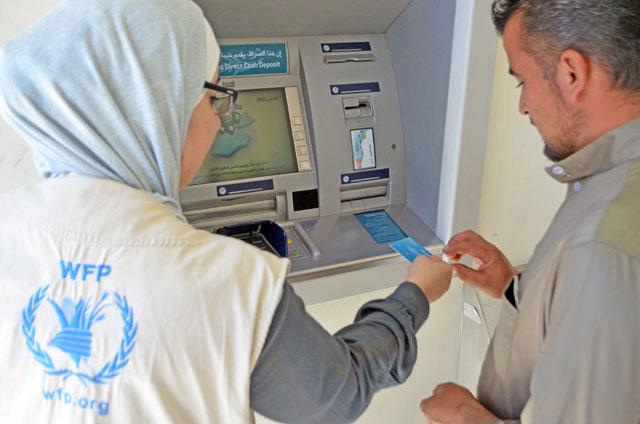 Dec 19,2017
AMMAN — Over 10,000 people in Azraq refugee camps are now able to pay for their food by means of entitlements recorded on a blockchain-based
Dec 14,2015
AMMAN — UNICEF and the UN World Food Programme (WFP) have launched a cash assistance programme that will allow vulnerable Syrian families in
Newsletter
Get top stories and blog posts emailed to you each day.