You are here
Gov't announces third economic incentives bundle
Razzaz says third package benefits 700,000 Jordanians
By Bahaa Al Deen Al Nawas - Dec 06,2019 - Last updated at Dec 06,2019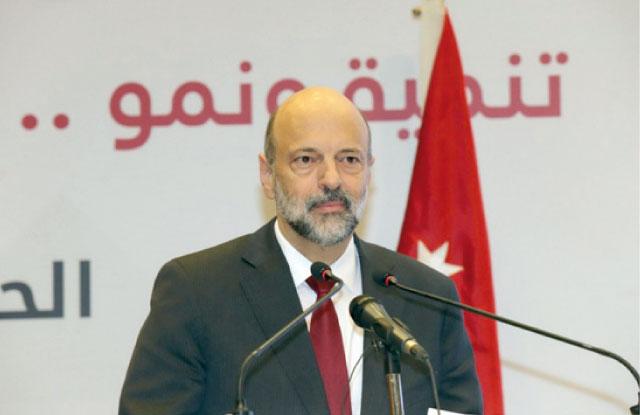 Prime Minister Omar Razzaz announces the third executive package to improve the national economy at the Royal Cultural Centre in Amman on Thursday (JT photo)
AMMAN — The government on Thursday announced the third of four executive packages to improve the national economy, which focuses on increasing the salaries of employees and retirees in the public sector and the military.
Unveiling the incentives bundle, Prime Minister Omar Razzaz said that the third package "has the biggest direct impact" as it benefits 700,000 Jordanians.
Reiterating updates on the first two packages, which tackled stimulating investments and the economy as well as addressing managerial sloppiness, Razzaz said the government is still looking into the number of directors and commissioners at certain companies and commissions.
The two packages have had a direct impact on citizens, as, for example, the prices of certain cars went down by an average of JD2,800, Razzaz said, noting that in regards to the third package, the last time a direct increase was made to salaries was in 2010.
Razzaz said discussions began in November of 2018 under Royal directives with all involved parties, with the aim of improving the living conditions of public sector employees by linking their wages to performance.
In April of 2019, committees that included all partners representing professional associations and specialised committees from the Lower House worked together to review the civil service by-law, while in October the increase of salaries of military retirees and their heirs was endorsed by a Royal Decree, the premier said.
Also in October, an agreement was reached to increase the salaries of teachers, he added.
In October, the government announced its comprehensive programme comprising four packages: Stimulating the economy and investments, management and financial reform, improving citizens' livelihoods and improving services comprehensively.
The first package provided incentives in the real-estate sector, focused on boosting exports and production and introduced measures to improve labour and employment for Jordanians.
The second package lowered taxes on electric cars, removed the vehicle weight tax, reduced and controlled government purchases and resolved bureaucracy issues.
Newsletter
Get top stories and blog posts emailed to you each day.