You are here
Gov't to issue Defence Order imposing penalties on violating entities, Adaileh says
Inspection teams have intensified monitoring; 21 establishments closed on Wednesday
By JT - Apr 30,2020 - Last updated at Apr 30,2020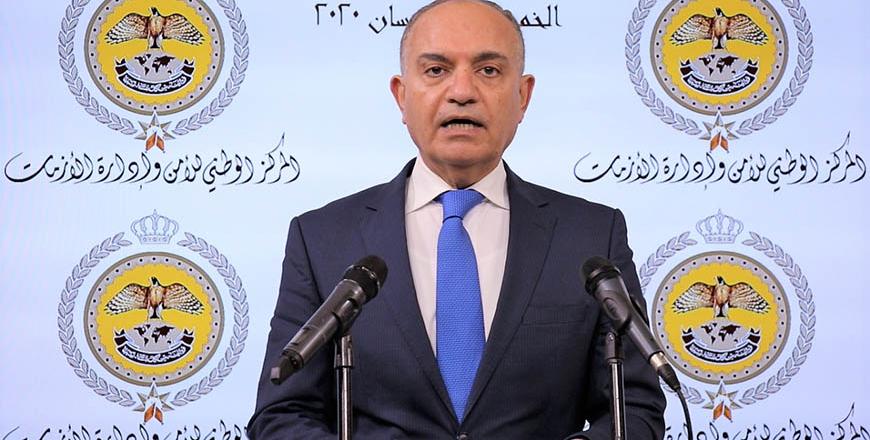 Minister of State for Media Affairs Amjad Adaileh speaks during a press briefing at the National Centre for Security and Crisis Management in Amman on Thursday (Petra photo)
AMMAN — Minister of State for Media Affairs Amjad Adaileh on Thursday said that the government will issue a new Defence Order under which penalties will be imposed on establishments and public transport means that do not adhere to public safety and security measures.
During a press briefing at the National Centre for Security and Crisis Management, Adaileh noted that work and commercial activities in malls and shopping centres have been permitted, except for restaurants, cinemas, entertainment places and children's playgrounds, which will remain closed.
Owners of malls, according to Adaileh, are also required to allocate sites for selling masks at their entrances and to ensure thatno one is allowed to enter without wearing masks or to stay while violating preventive measures during shopping, the Jordan News Agency, Petra, reported.
Regarding the establishments authorised to operate, whether within or outside malls, Adaileh said that these businesses are obliged to place signs instructing people to stand at an appropriate distance to ensure social distancing.
He added that they must not allow more than two people to enter the facility at the same time.
The minister reaffirmed the total lockdown on Friday, which includes carriers of e-permits, with the exception of medical and nursing staff in the public and private sectors, epidemiological inspection teams and a limited number of officials and personnel responsible for sustaining the work of some vital institutions.
Adaileh announced the increase in the number of restaurants and pastry stores that fulfilled work requirements for delivery services to 841 establishments, adding that they were granted the necessary permits.
He pointed out that government oversight and inspection teams are intensifying their campaigns covering all facilities authorised to operate to ensure their compliance with public safety requirements and preventive measures, noting that 21 facilities were closed on Wednesday for violating safety and health protection measures.
Adaileh noted that 167 countries on Thursday confirmed their solidarity with New York City in response to a statement proposed by Jordan at the United Nations as part of its international efforts to confront the pandemic.
Newsletter
Get top stories and blog posts emailed to you each day.