You are here
Gov't Procurement Department launched under comprehensive reform umbrella
Move aimed at unifying all purchase systems to boost efficiency of public sector
By JT - Nov 19,2019 - Last updated at Nov 19,2019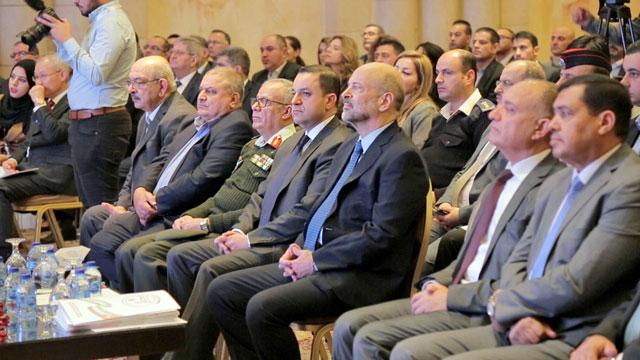 Prime Minister Omar Razzaz attends the launch ceremony of the Government Procurement Department on Tuesday (Petra photo)
AMMAN — Prime Minister Omar Razzaz on Tuesday attended the launch ceremony of the Government Procurement Department (GPD), which is part of the second executive package to improve the national economy.
Nizar Mheidat, head of the department, said the government has adopted a series of reform procedures that seek to institutionalise and unify measures to boost the efficiency of the public sector and increase the level of services provided to citizens, the Jordan News Agency, Petra, reported.
Among these procedures is endorsing the 2019 procurement by-law, which unifies all purchase systems in the Kingdom and merges the Joint Procurement Department for Medical Supplies and the General Supplies Department into the GPD.
The GPD is a "vital" element of the financial and administrative reforms and includes an e-procurement system to enhance transparency in procedures related to government tenders and improving purchase processes, the director said.
Mheidat noted that the government procurement by-law is mentioned in the 2018-2022 Jordan Economic Growth Stimulation Plan.
He added that the e-procurement system tracks all stages of the purchase process, from packing and assembling supplies to submitting bidders' tenders, signing contracts with suppliers, receiving goods and paying bills.
The director said that the system aims to develop a unified supplies plan for the public sector through finding common criteria for supplies being used by government institutions including medical equipment and software and computer hardware, in a way that enhances controlling expenditures.
During the ceremony, the department also honoured the Korean ambassador and director of the Korea International Cooperation Agency, along with other partners and representatives of pharmaceutical companies.
Newsletter
Get top stories and blog posts emailed to you each day.