You are here
Graduate students with visual disabilities beating odds as peers 'read to them'
By Johannes Decat - Mar 17,2015 - Last updated at Mar 17,2015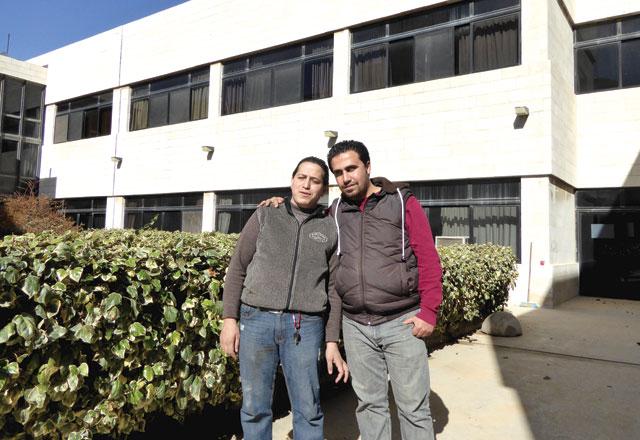 AMMAN — In December last year, a small group of sighted and blind students at the University of Jordan put their hands together to develop a project assisting classmates with visual impairments in their graduate studies.
They called it "Eqraali Initiative", after the Arabic imperative "read to me".
"Though visual impaired students have learned to be independent, there are some obstacles we can only overcome with assistance, such as reading learning material or searching for books in the library," Alaa Mahfouz, a linguistic student with visual disability and co-founder of the initiative, said in an interview with The Jordan Times.
The university counts 169 students with visual disability, of which more than one-third are enrolled in a master's or PhD programme.
"Especially blind students enrolled in a master's or PhD tend to struggle a lot in their studies and are in dire need of better assistance," Mahfouz added.
Eqraali currently consists of nearly 200 volunteers, helping 12 graduate students with visual impairment, but the organisation hopes to soon expand to 20 beneficiaries.
"We want people to know about what we're doing," said Soha Tbakhi, an engineering student and the inspirer of the initiative. "We still need more volunteers."
In one breath, Tbakhi summarised its mission: "Eqraali is Arabic for 'Read to me'. Our volunteers audio record study material, read to the blind and partially sighted graduate students, help them search for books in the university library, type out study material in Braille, write down their oral answers in the exam…"
Ayaam Fuaad Al Asaad is one of the volunteers at Eqraali. She helps a blind student with his linguistic studies.
"It was the first application I filled in on the first day. I normally tend to procrastinate until the last moment," Asaad told The Jordan Times.
She was sitting with friends in a restaurant on campus when project leader Tbakhi called her, asking if she could start that same afternoon, audio taping study material about linguistics for a blind student. Asaad said she immediately cancelled all her plans for that afternoon in order to serve her first mission for Eqraali.
"Without these people, it would have been much harder for me at the university," said Osama Omar, a beneficiary of the initiative.
"The University of Jordan has a centre for students with… [disabilities]; [they] enjoy a discount from 50 to 90 per cent on their university fees and receive personal assistance in writing their exams, and there are sign language interpreters for the deaf students. However, there was a lack of support for blind graduate students," Omar noted.
The grassroots Eqraali Initiative is trying to fill this vacuum in assistance.
Omar started gradually losing his sight when he was two years old and became completely blind at the age of 14.
Eqraali volunteers now assist him in studying for his MA in curriculum and instruction.
He hopes to become a teacher at the university one day.
Three to four hours a week, the Eqraali volunteers become a replacement for Omar's eyes. They readout study material to him, help him browse the web and lead him past the bookshelves at the library in search for a suitable volume for his research.
"I am very grateful to Eqraali," Omar said.
"Being a blind student at the university is not easy, a lot of infrastructure at the campus is not adapted to our needs."
According to the 31-year-old student, many roads on the campus are dangerous for blind students and the specialised study room for the blind is too small for the number of students with visual impairment.
He also dreads the fact that many students and teachers do not know how to deal with his disability.
"Eqraali is not completely solving my problems, but at least relieving some of the challenges I face."
Related Articles
Jul 24,2016
AMMAN — Students and recent graduates from across the Arab world are helping to enhance the academic experience of blind students in Jordani
Mar 17,2015
Salma waits at the exit of the kindergarten in Abdoun, where she works as a director for children with disabilities, for an interview with The Jordan Times.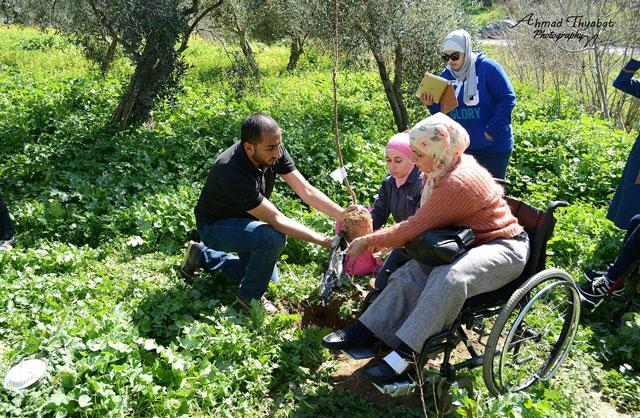 Jun 21,2016
AMMAN — Until recently, Hadeel Abu Soufeh was not able to fully express her love of nature by working on the land. Confined to a wheelc
Newsletter
Get top stories and blog posts emailed to you each day.