You are here
'Greece appreciates Jordan's generosity in hosting refugees'
By Dana Al Emam - Nov 26,2014 - Last updated at Nov 26,2014
AMMAN — Greece "recognises and appreciates the generosity and valuable contribution of Jordan" in providing shelter to refugees from Syria, Iraq and Libya fleeing violence in their countries, Greek Ambassador to Jordan Maria Louisa Marinakis said on Tuesday.
In a lecture she delivered at the University of Jordan, Marinakis added that her country, which held the presidency of the EU council in the first six months of this year, urged EU countries to provide more support to Jordan.
Between 2011 and 2014, Greece, along with the other 27 EU member countries, increased humanitarian and developmental assistance to Jordan, to 3 billion euros (around $3.7 billion), she noted.
Underscoring His Majesty King Abdullah's "persistent and constructive efforts to advance regional security, stability and moderation", Marinakis highlighted that instability will have long-term political, economic and social consequences, not only on Syria and Iraq, but also on neighbouring countries and the entire region.
"In Syria, we agree that the political solution is the only viable one. In this war of attrition, the real victims are the people," she said, adding that the international community should examine all possibilities and undertake any effort for the resumption of talks and for a political agreement on a way out of the crisis.
Commenting on the situation in Iraq, the ambassador said Greece has called on the international community to actively join the global campaign against terrorism.
Furthermore, she said that Greece is a "committed" supporter of interfaith dialogue, aiming to contribute to the promotion of religious freedom, human rights and peace efforts in the Middle East, adding that the Greek city of Thessaloniki held a seminar on the Amman Message last year.
Turning to bilateral ties, the ambassador noted that Amman and Athens established diplomatic relations in 1966.
She referred to Foreign Minister Nasser Judeh's recent visit to Greece, where officials from both countries signed a number of cooperation agreements to increase trade exchange, exempt holders of diplomatic passports from visa requirements and boost cultural, educational and scientific cooperation for the years 2014-2016.
Marinakis said her country is carrying out major projects in the Kingdom, including the new terminal of Amman's airport and a hydroelectric plant in Zarqa.
Moreover, she cited cooperation between the Jordanian and Greek armies, adding that since the 1960s around 2,000 Jordanians, mainly medical students, studied in military schools as well as in other universities in Greece.
Related Articles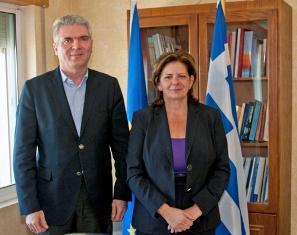 Jan 18,2014
Greece, as president of the Council of the EU, "will spare no effort" to promote Jordanian interests, according to Greek Ambassador to Jordan Maria Louisa Marinakis.
Mar 26,2015
Greece on Wednesday commended Jordan's commitment to strengthening relations between Christians and Muslims "for the development of a friendly, harmonious and peaceful society".
Jul 01,2014
Reading the Agence France-Presse article  "Dozens of foreign diplomats seek asylum in Canada — media" (The Jordan Times, June 29, 2014) I was astonished by the reference to my country in a statement saying that "16 diplomats from countries such as Syria, Iraq, Greece, Honduras and even an American embassy staffer", supposedly "requested asylum in Canada, motivated by the hope of better life" or because "they are aware of rights abuses in their homeland that they can no longer support".
Newsletter
Get top stories and blog posts emailed to you each day.