You are here
Greenpeace activists block entrance to construction site in Bergesh Forest
By Hana Namrouqa - Jun 07,2014 - Last updated at Jun 07,2014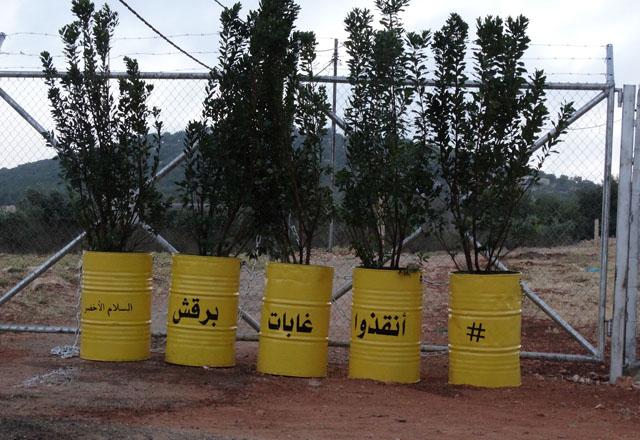 AMMAN — Greenpeace volunteers on Saturday blocked the main entrance of the site where trees were allegedly uprooted to establish a military academy in Bergesh Forest.
At dawn on Saturday, the volunteers placed five large yellow barrels in front of the gate of the fenced-off site, where the Jordan Armed Forces (JAF) is said to be building a military academy, according to Greenpeace activists.
The barrels, across which was written "#Save Bergesh Forests – Greenpeace", were chained together and placed in front of the gate to block the entrance.
"The aim of this non-violent direct action was to reiterate our complete refusal of the recent clear uprooting of hundreds of centennial trees in Bergesh Forest," said Omar Qubain, regional volunteers' coordinator at Greenpeace Arab World.
"Until this minute, the government has not given any clear statements about what has happened in Bergesh Forest. We denounce this act and again call on the government to open an official and serious investigation to hold accountable those responsible and to prevent this from happening again," Qubain said.
Conservationists and environment activists claim that the JAF has uprooted approximately 2,000 centennial trees in the forest for the construction of a military academy.
They noted that the JAF is in clear violation of the country's laws and regulations by cutting down forest trees on Treasury-owned land, and has acted against a Cabinet decision.
Under the decision, which was issued in September 2011 after a national campaign rallied public support for protecting the trees, cutting or uprooting trees is banned in Bergesh Forest, which will remain a forest area.
In a recent statement, the army dismissed claims that it has uprooted forest trees, stressing that the military academy is being built on the outskirts of Bergesh and that only trees already damaged by last December's snowstorm were removed.
The JAF has argued that the academy is a strategic project that would bring development to Ajloun Governorate.
In 2011, an army official said the JAF has taken note of the public response to the project and introduced 12 main amendments to its original blueprint, under which "no more than 100 trees" will be cut down, as opposed to 2,400 in the original plan.
In addition, 10-20 trees will be planted for each uprooted tree, the army said at the time.
Greenpeace activist Hana Bilbeisi said the reason behind building a military academy in a forest is still unclear.
"There are no convincing arguments justifying the cutting of trees in an ecologically sensitive area such as Bergesh. The site... must be relocated to a barren area," Bilbeisi underscored.
Located 90 kilometres northwest of the capital, Bergesh Forest's green cover stands at 90 per cent.
It represents an integrated ecosystem that houses over 100 plant species — 13 per cent listed as rare, 4 per cent as locally or internationally threatened and 13 per cent as having medicinal value, according to ecologists at the Royal Society for the Conservation of Nature.
Greenpeace said it "continues to stress the importance of officially investigating the dire situation in Bergesh. Moreover, environmentalists say the decision to build a military academy is illegal and goes against a number of local environmental laws as well as the Convention on Biological Diversity and the International Convention to Combat Desertification".
Related Articles
May 31,2014
Conservationists and environment activists on Saturday denounced the reported uprooting of hundreds of centennial trees from Bergesh Forest and relaunched a national campaign to combat further destruction of the site.
Aug 19,2014
Agriculture Minister Akef Zu'bi on Tuesday vowed that "not a single forest tree will be cut down" for the construction of the planned military academy in Bergesh Forest or for any other investment project.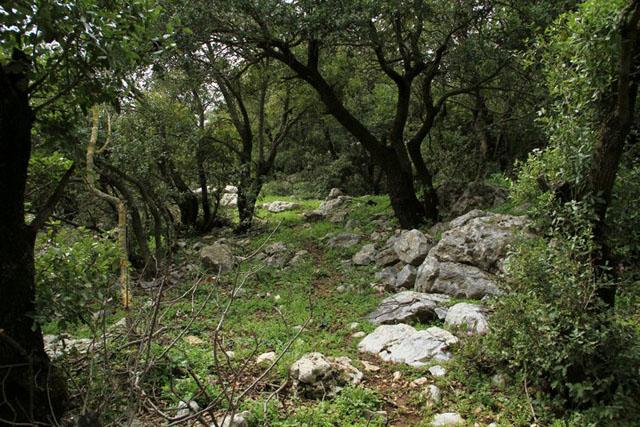 May 28,2014
The controversy over uprooting centennial trees from Bergesh Forest for building a military academy resurfaced on Wednesday, after the Jordan Armed Forces (JAF) reportedly resumed cutting down trees to establish it, according to government officials and activists.