You are here
High costs among factors attributed to decline in marriage rate
By Rana Tayseer - Mar 21,2023 - Last updated at Mar 21,2023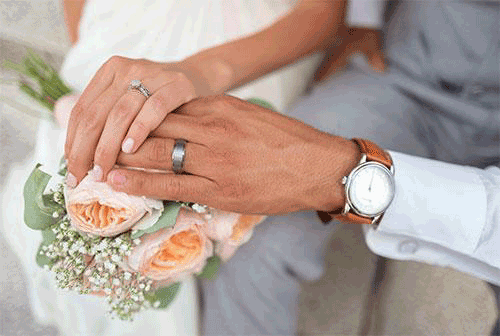 Photo courtesy of unsplash
AMMAN — Costly dowries, coupled with difficult economic conditions, are the main reasons many attribute to a decline in marriages in Jordan.
The Kingdom witnessed a remarkable decline in marriages in 2022 compared with 2021, down by 15.2 per cent, or 11,526 contracts, Chief Islamic Justice Abdul Hafez Rabtah said on Monday, announcing the detailed statistical report of the Supreme Judge Department for 2022.
Rabtah said that the Kingdom witnessed 75,360 marriage contracts in 2021, which decreased to 63,834 contracts in 2022, the Jordan News Agency, Petra, reported.
In 2022, Sharia courts saw a decrease in the proportion of marriage contracts for those aged 16, down 27.5 per cent in 2022 compared with 2021, or 5,824 marriages, down from 8,037, according to a report.
He revealed that the number of divorces (regardless of the year the marriage occurred) registered in Sharia courts decreased by 6.8 per cent in 2022, or 1,952 cases, compared with 2021, according to a report.
Rabtah said that the number of divorces stood at 28,708 cases in 2021, while 2022 saw 26,756 divorces. The divorce rate was 5.8 per cent in 2022, which was almost constant compared with previous years, according to a report.
Commenting on this decline, sociologist Hussein Al Khozahe said that marriage "these days is not a priority" for young people for several reasons, the most important of which are the high rates of poverty and unemployment in Jordan.
Economic factors have a significant impact on the postponement of marriage, along with low salaries and the high costs, Khozahe told The Jordan Times.
"Forty-eight per cent of young Jordanians are willing to emigrate, and prioritise that over marriage," he said.
Faris Al Qadi, a Jordanian citizen, said that he cannot get married due to high costs and his low income, among others.
Qadi views marriage requirements, such as the dowry and accompanying expenses, as "exaggerated".
Another Jordanian citizen, Mahmoud Jamal, who is planning to get married in the near future, says he needs to work two jobs to cover the wedding expenses.
"My fiancée also works as a teacher and helps me with the house preparations, but at the same time we cannot save enough," Mahmoud said.
Newsletter
Get top stories and blog posts emailed to you each day.