You are here
Interior minister resigns in wake of post-election lockdown breaches
Army vows to enforce lockdown with 'iron fist'
By JT - Nov 13,2020 - Last updated at Nov 13,2020
Prime Minister and Minister of Defence Bisher Al Khasawneh, along with Chairman of the Joint Chiefs of Staff Maj. Gen. Yousef Huneiti and Public Security Directorate Director Maj. Gen. Hussein Hawatmeh (right), speaks during a press conference on Thursday (Petra photo)
AMMAN — Prime Minister and Minister of Defence Bisher Al Khasawneh on Thursday announced that Interior Minister Tawfiq Halalmeh had tendered his resignation earlier in the day out of his "moral responsibility" following the events after the parliamentary elections.
Khasawneh made the announcement during a joint press briefing at the Prime Ministry with Public Security Directorate (PSD) Director Maj. Gen. Hussein Hawatmeh and Chairman of the Joint Chiefs of Staff Maj. Gen. Yousef Huneiti to acquaint the public with the government procedures to deal with violations and riots that followed the elections.
In this regard, the prime minister stressed that all who violated the law, did not adhere to the curfew and those who used weapons to celebrate winning in the elections will be penalised as per the law, adding that the army was being deployed across the Kingdom to help security agencies restore order.
He also said that Jordan is a state of laws and Constitution that held the parliamentary elections "successfully" at the right time, noting that there were some "big violations" following the announcement of the initial results of the elections that damages the public interest.
Hawatmeh said that what happened is the result of failure of successive governments in dealing with the issue of weapons, promising Jordanians that the directorate will pursue all who use firearms in festive activities and violated the law.
"How are you going to represent the people while you are the first to violate the law?" said Hawatmeh, addressing elected MPs.
He said that PSD personnel arrested 18 candidates and referred them to administrative governors, in addition to arresting 324 for festive firing and seizing 29 weapons.
The PSD director also voiced astonishment over a father who gave his 11-year-old a Kalashnikov gun, threatening the lives of people, expressing surprise of a community that suffers from poverty to have such large amounts of ammunition.
He said that he had directed all personnel in the field to use the appropriate force against perpetrators of festive firing and those who use weapons, reiterating that what happened is "unacceptable and distorts the image of Jordanian society".
Also speaking at the press briefing, Huneiti said that the Jordan Armed Forces-Arab Army will deal with those who broke the law with an "iron fist", adding that JAF will support security apparatuses to instil the rule of law and arrest violators.
Related Articles
Nov 15,2020
AMMAN — Jordanians voiced their outrage over the weekend over dozens of videos that went viral showing thousands of people defying the lockd
Oct 19,2020
AMMAN — Prime Minister and Minister of Defence Bisher Al Khasawneh on Sunday reiterated the government's full support for all law enforcemen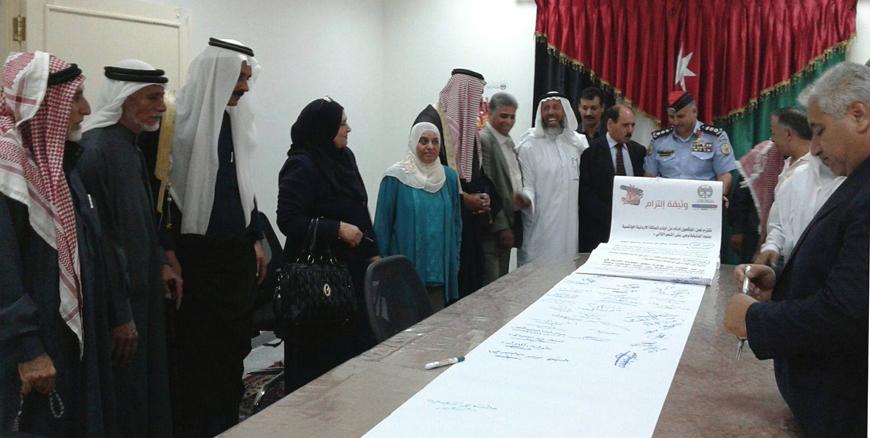 Sep 22,2015
AMMAN — The Public Security Department (PSD) on Tuesday said a recent campaign to curb festive shooting is paying off."We have not registere