You are here
Jazz festival's staircase concert catches some by surprise over weekend
By Muath Freij - Apr 22,2019 - Last updated at Apr 22,2019
Germany's Daniel Erdmann prepares to play a saxophone during an Amman Jazz Festival performance on Saturday (Photo by Muath Freij)
AMMAN — Climbing a set of stairs linking Jabal Luweibdeh and downtown Amman, Zeinab Alawi said she was "over the moon" to stumble upon local and foreign musicians playing Eastern and Western music side by side over the weekend.
"I like jazz music and I like the idea of music being played on a staircase, especially with the atmosphere added by the graffiti painted on these stairs," she told The Jordan Times.
Alawi was among a number of people who were passing by and stopped after encountering musicians playing jazz at Al Kalha staircase.
The staircase concert was a public event and took place on Saturday with a second concert being postponed until Wednesday due to rain. The event was held within the framework of the Amman Jazz Festival, according to a statement from organisers.
Laura Hartz, director of Goethe-Institut Jordan, said Amman's jazz festival brings in bands from all over the world year after year.
"We wanted also bring the music to the streets. We thought that staircases in Amman were such an interesting venue because the architecture of staircases is already a kind theatre. It also bridges and connects neighbourhoods, which was what we wanted to do," she added.
"When you bring different musicians from different backgrounds there is always something new being created, which is the beauty of bringing them together," she said.
The staircase concert was organised by the Amman Jazz Festival and the Goethe-Institut Jordan, in collaboration with the Greater Amman Municipality and the EU, according to the statement.
Related Articles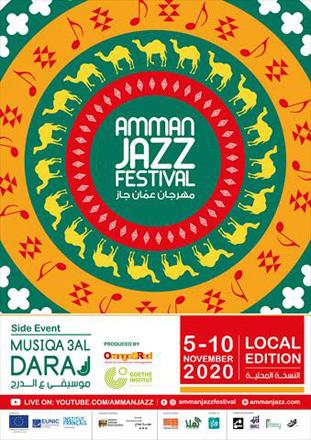 Oct 18,2020
AMMAN — Celebrating nine years of jazz from around the world, this year's Amman Jazz Festival (AJF) is going local and online from Nov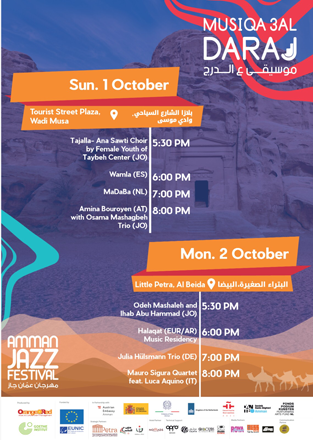 Sep 30,2023
AMMAN — Within the framework of the Amman Jazz Festival, the Musiqa 3al Daraj festival returns in its fifth edition, taking place for the fi
Sep 27,2022
AMMAN — The Amman Jazz Festival will kick off on September 28, celebrating 10 years of Jazz in Jordan with a vibrant and diverse programme.T