You are here
Jordan, Egypt agree to double electricity capacity, expand regional reach
By JT - Nov 28,2021 - Last updated at Nov 28,2021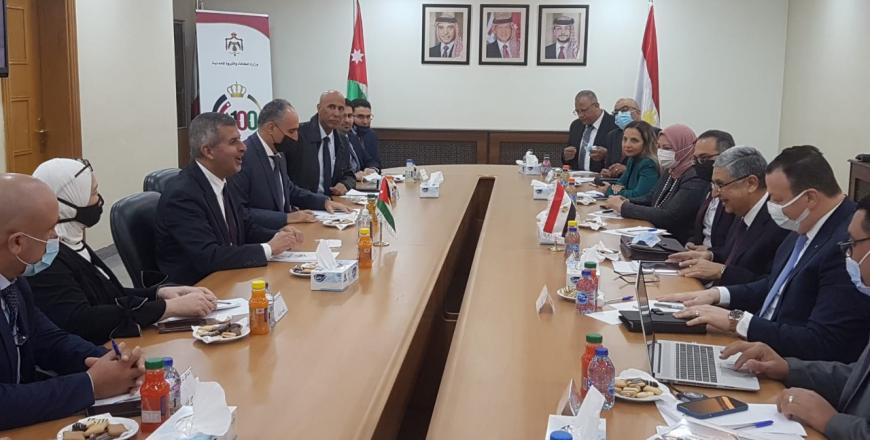 Energy Minister Saleh Kharabsheh and Egyptian Minister of Electricity and Renewable Energy Mohamed Markabi hold a meeting in Amman on Sunday (Petra photo)
AMMAN — Jordan and Egypt on Sunday agreed to raise the electric capacity between the countries from 500 megawatts to 1,000 megawatts, enabling them to exchange electricity with other countries in the region.
Energy Minister Saleh Kharabsheh and Egyptian Minister of Electricity and Renewable Energy Mohamed Markabi held a meeting to discuss plans to expand the electrical connection between the countries, develop the electricity sector and establish new energy markets for the transfer of electric energy, according to a joint statement.
Kharabsheh said that these agreements will help the two countries' electrical systems reach new markets in a way that reduces costs.
He also pointed out that within two months tenders for connecting Jordanian electricity to Iraq will be awarded contracts.
Kharabsheh stressed the Jordanian electrical network's readiness to supply Lebanon with electricity, especially after agreement on the final contract, reached during the tripartite meeting of Jordan, Syria and Lebanon's electricity ministers on October 18.
The meeting in October covered supplying Lebanon with about 150 megawatts of electricity from Jordan through Syria between midnight and 6am and 250 megawatts during other times.
During the recent meeting, Kharabsheh highlighted the progress on connecting Jordan with Saudi Arabia, Syria and Iraq.
Markabi highlighted Egypt's experience in connecting their electricity with Saudi Arabia, Sudan and Europe.
Kharabsheh stressed the importance of coordination in the electric and renewable energy fields.
The Egyptian minister said that Egypt has been able to raise its electrical capacities to become exportable. He underlined its ambitious plan to raise the percentage of renewable energy to 35 per cent by 2035.
Egypt currently possesses good spare capacity, he noted, adding that Egypt is proceeding with electrical interconnection projects with neighbouring countries.
The Egyptian minister pointed out that the electricity linkage with Jordan bolsters the electrical energy exchange system in the region.
The two sides praised the distinguished strategic relations between the two countries, describing the Jordanian-Egyptian electricity linkage as "an ideal model" for electrical linkage projects among Arab countries.
Jordan and Egypt have exchanged electrical energy since 1999, and the Jordanian electrical network is connected to the Egyptian electrical network through a 400 kilovolt submarine cable, extending across the Gulf of Aqaba with a length of 13 kilometres and a capacity of 550 megawatts.
The Jordanian-Egyptian connection comes within the eight electrical interconnection group, which includes Jordan, Egypt, Iraq, Syria, Lebanon, Palestine, Libya and Turkey.
Newsletter
Get top stories and blog posts emailed to you each day.