You are here
Jordan hosts nearly 15% of the world's refugees — Fakhoury
By JT - Mar 18,2018 - Last updated at Mar 18,2018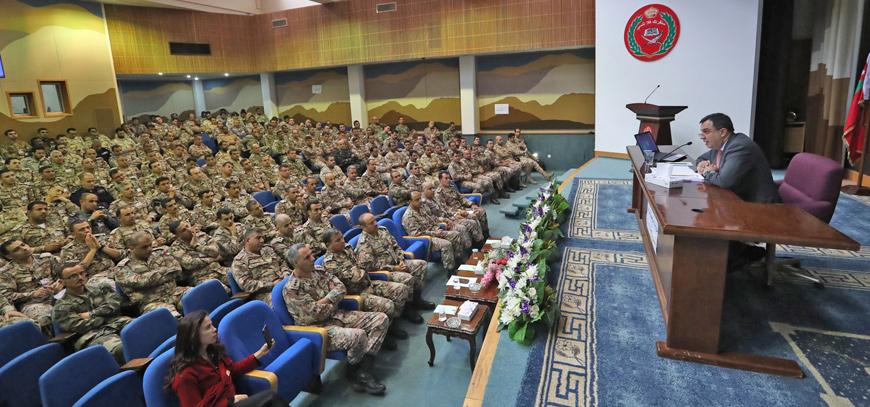 Planning and International Cooperation Minister Imad Fakhoury speaks during a lecture at the Royal College of Jordanian Command and Staff titled 'The Syrian Crisis and its repercussions on Jordan', on Sunday (Petra photo)
AMMAN — Jordan hosts 3.5 million refugees, constituting 15.6 per cent of the world's refugee population, Planning and International Cooperation Minister Imad Fakhoury said on Sunday.
Speaking during a lecture at the Royal College of Jordanian Command and Staff titled "The Syrian Crisis and its repercussions on Jordan", Fakhoury outlined the economic and social burdens generated by hosting refugees of the Syrian crisis.
The minister also highlighted Jordanian efforts to deal with the influx, according to a statement from the ministry.
He stressed the importance of sharing burdens with the international community through support to host countries to strengthen their resilience and ensure their ability to continue delivering services to refugees, especially in water, municipal services, health and education sectors.
Fakhouri added that Jordan has faced several unprecedented external shocks since 2011 that have impacted its economy, explaining that regional turmoil has resulted in the closure of borders with neighbouring countries and the disruption of Egyptian natural gas to Jordan, which all led to an increase in the public debt.
He said that economic growth rates went down from more than 6 per cent between 2000 and 2010 to almost 2 per cent during the past seven years, adding that the unemployment rate jumped to 18 per cent in the second quarter of 2017.
He also said that the direct cost of hosting 1.3 million Syrian refugees, who constitute 14 per cent of the population, reached $10.5 billion over the past seven years, standing annually at $1.5 billion and accounting for 4 per cent of the GDP and 16 per cent of yearly government revenues.
The indirect cost, according to a joint study by UNDP and the TAG-KF, stands between $3.1 billion and $3.4 billion each year, he added.
Related Articles
Mar 07,2015
Water subscribers in the northern governorates increased by 15 per cent in 2014 due to the fact that the region hosts the majority of Syrian refugees residing in the Kingdom, government officials said on Saturday.
Jan 31,2015
Arab Bank Group generated $577.2 million net profit after tax and provisions in 2014, according to a bank press statement received Saturday.
Jul 06,2015
AMMAN — Exports of agricultural produce dropped by 15 per cent during the first half of this year compared to the same period last year, gov
Newsletter
Get top stories and blog posts emailed to you each day.