You are here
Jordan-Korea ties 'mutually beneficial, future-oriented' — ambassador
Seoul working with Amman, int'l community towards stability in region
By Mohammad Ghazal - Oct 03,2016 - Last updated at Oct 03,2016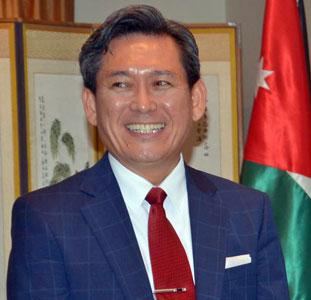 AMMAN — Korea has developed mutually beneficial and future-oriented economic cooperation in Jordan, which can be seen in several successful projects across the Kingdom, Korean Ambassador to Jordan Lee Bom-yon said on Monday.
Speaking at a reception to mark Korea's Foundation Day, the ambassador pointed to Korea Electric Power Corporation's two power plants in Amman and Qatraneh, and Kolon Global's work to build wastewater facilities in and around Amman, as examples of bilateral cooperation.
He also noted that Daewoo Engineering and Construction has almost completed Jordan's first research reactor at the Jordan University of Science and Technology, while Samsung and LG have their regional headquarters in Amman.
"They have contributed to the Jordanian economy with thousands of jobs," the diplomat said.
Korea has worked together with the Jordanian government and the international community in efforts to establish peace and stability in this region, he added.
At the London donor conference in February, Korea pledged to grant $45 million in humanitarian assistance as well as official development aid to the UN agencies and countries hosting Syrian refugees such as Jordan, Turkey and Lebanon.
"I am pleased to add that the Korean government has already fulfilled most of its pledge, including $3 million as humanitarian assistance to Jordan and UN agencies working in Jordan for the Syrian refugees, in addition to about $19 million to Jordan in grants and soft loans in 2016," Lee added.
Although Korea is a relatively small-sized donor, since the mid-1990s Seoul has extended more than $325 million in financial assistance to Jordan, in grants and soft loans.
Korea has funded key projects in the areas of education, vocational training and healthcare, he added.
The Korean government is currently working on three major projects in Jordan, including a special school for deaf students in Marka, three healthcare centres in Amman and an e-procurement system for the government, Lee said.
More than ever before, the Jordanian and Korean people are closely connected, according to the diplomat.
Many Jordanians have business ties with Korean companies in Jordan and overseas, while Jordanian students and government officials head to Korea every year for education and training programmes.
"One of those programmes is financial and training support for athletes to train in Korea, such as taekwondo. It is not known to most Jordanian people, but Mr Ahmad Abu Ghaush trained in Korea under that programme before he went to Rio," said the ambassador.
Abu Ghaush became Jordan's first ever Olympic medallist over the summer, scoring gold in the taekwondo -68kg event at the Rio Olympics.
The ambassador also touched on Korea's own regional issues, criticising North Korea for conducting its fifth atomic test in September despite repeated warnings by the international community.
North Korea "should realise that the more reckless provocations they conduct, the stronger international sanctions and more severe diplomatic isolation they will face, leading to the collapse of its economy and eventually self-destruction", he said.
The ambassador urged North Korea "to immediately abandon its nuclear weapons and missile programmes in a complete, verifiable and irreversible manner".
Related Articles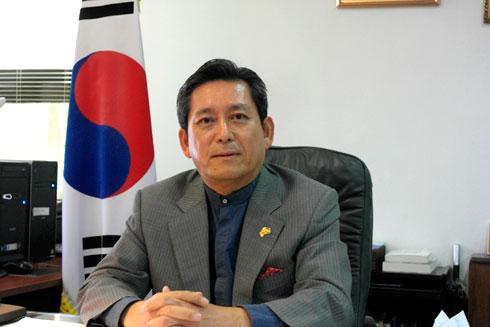 Sep 30,2017
AMMAN — When Bom-yon Lee was working as a consul general at the Korean embassy in Japan three years ago, he came across a Korean TV drama th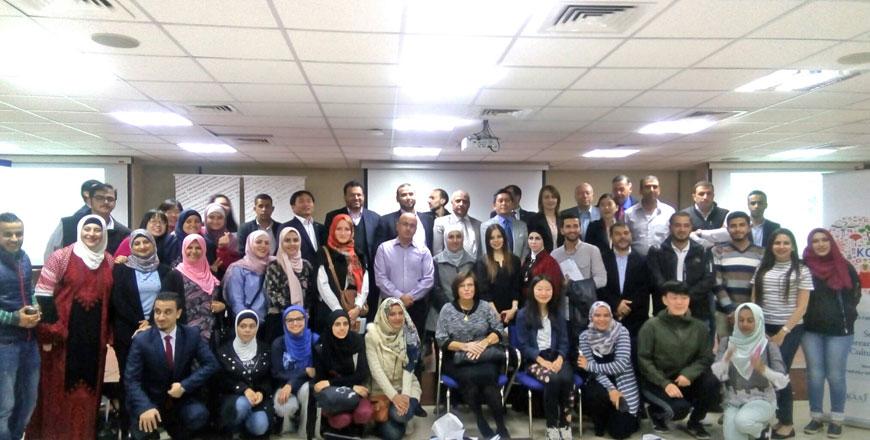 Nov 04,2017
AMMAN —The Korea International Cooperation Agency (KOICA) on Thursday held talks with officials at the Talal Abu Ghazaleh Knowledge Forum in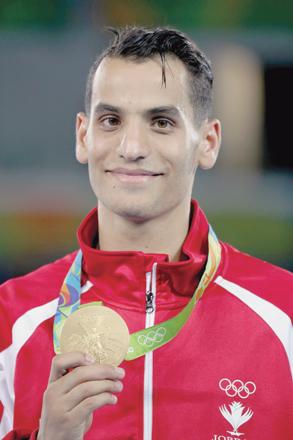 Aug 20,2016
AMMAN — A single athlete made history for Jordan after winning its first ever Olympic medal and entering Olympic history early Friday mornin
Newsletter
Get top stories and blog posts emailed to you each day.