You are here
Jordan marks World Day for Prevention of Child Abuse
By Laila Azzeh - Nov 22,2014 - Last updated at Nov 22,2014
AMMAN — World Day for Prevention of Child Abuse arrived this year with a packed agenda to improve children's rights in Jordan.
With more than 46 per cent of the population aged below 18 at the end of 2013, experts noted that the Kingdom's responsibilities towards this segment of society are "huge" and "overwhelming".
At a press conference on Thursday to a mark the day, which annually falls on November 19, National Council for Family Affairs (NCFA) Secretary General Fadel Hmoud highlighted Jordan's obligations under the Convention on the Rights of the Child, which the country ratified 25 years ago.
He acknowledged that there are "imbalances" in efforts to nurture children, which is mainly the responsibility of the family, school and houses of worship.
"This is mainly due to the lack of dialogue," Hmoud said, in response to a question on the rising popularity of extremist ideology among young people.
When it comes to violence against children, he said that it is on the rise, mainly due to growing public awareness of the issue that leads people to report abuse cases.
Hmoud highlighted NCFA's work, which focuses on family guidance and investing in early childhood development across the country.
He noted that the centre has found some loopholes in the new law on protection from domestic abuse, which has prevented its implementation.
"We addressed the loopholes and referred the amended law to the Legislation Bureau before it is presented to the Cabinet for endorsement," Hmoud indicated.
He added that the NCFA has referred several recommendations to the concerned authorities that aim at ensuring the best practices to protect children, including annulling Article 308 of the Penal Code, which states that rapists are spared from punishment or legal prosecution if they marry their victims and stay with them for five years.
The recommendations also tackle articles related to punishing children and dropping charges in cases of violence and rape if the perpetrator is a family member.
In response to the infamous "Tabarbour crime", which involved a woman who reportedly killed three of her five children late last month, Hmoud said a committee was formed with members of the forensic institute, NCFA and the Jordan River Foundation (JRF) to identify problems in mechanisms of handling domestic abuse.
Robert Jenkins, UNICEF representative to Jordan, stressed the need for all stakeholders to "hold hands" to enhance education opportunities in Jordan, especially when it comes to the enrolment of underprivileged children and students with disabilities in the Kingdom's schools.
"We also need to collectively work together to provide a platform for the youth to participate [in the decision-making process]," Jenkins said, citing the importance of translating the Juvenile law to reality.
Also during the meeting, JRF Director General Ghaleb Qudah and Save the Children-Jordan (SCJ) Director Manal Wazani highlighted their institutions' efforts to protect children.
Qudah cited the role of Dar Al Aman, which is part of the JRF child safety and intervention programme, in protecting children subjected to abuse, while Wazani elaborated on SCJ's services to provide social, economic and educational support to children, including non-Jordanians.
This year, the UN children's rights committee had several recommendations for Jordan, namely abolishing Article 62 of the Penal Code, which stipulates that parents can punish their children for disciplinary purposes in accordance with "general norms", according to Maha Homsi, chief of child protection at UNICEF.
The committee also called for expediting the annulment of Article 308 and drawing up a mechanism to obligate reporting on child abuse and sexual exploitation incidents.
The UN panel also urged the Kingdom to reconsider its reservations on Articles 14, 20 and 21 of the Convention on the Rights of the Child, among other recommendations.
According to the Department of Statistics (DoS), the number of children's healthcare facilities in the Kingdom went up from 435 in 2011 to 488 in 2013, which contributed to reducing the spread of many diseases among youngsters.
The DoS report also showed a rise in pre-school enrolment, which stood at 38.3 per cent in 2013 compared with 37.7 per cent in 2011, while primary education enrolment rose from 84.5 per cent in 2000 to 98.1 per cent last year.
Related Articles
Dec 22,2016
AMMAN — The National Council for Family Affairs (NCFA) is drafting a national law on children's rights to move towards a child-sensitive jus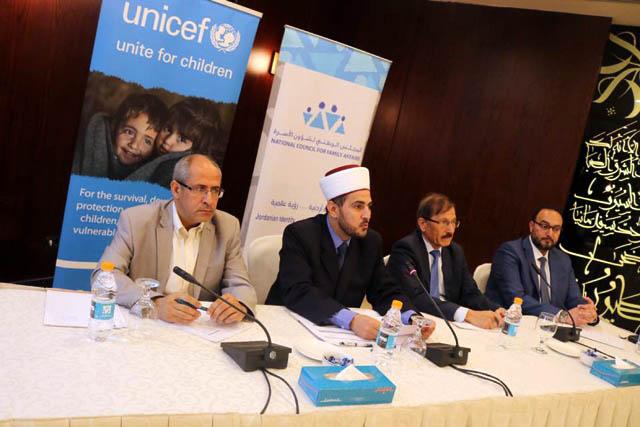 Jul 18,2017
AMMAN — Experts, religious figures and officials on Monday called for revisiting national legislation to provide better protection for child
Nov 19,2016
AMMAN — The Jordan River Foundation's (JRF) Queen Rania Centre for Family and Children held awareness events on Saturday under the motto of
Newsletter
Get top stories and blog posts emailed to you each day.