You are here
Jordan maternal mortality rate sees decline — health minister
PM attends launch ceremony of first national report for maternal mortality for 2018
By JT - Dec 09,2019 - Last updated at Dec 09,2019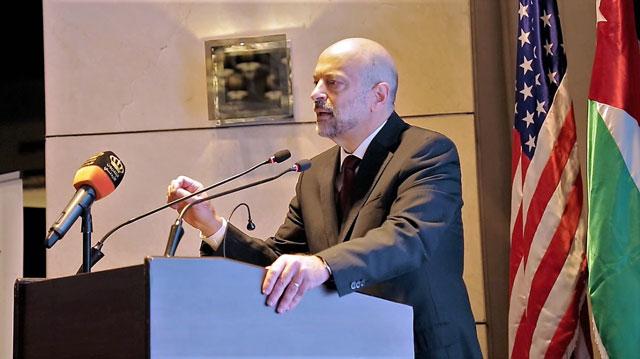 Prime Minister Omar Razzaz speaks during the launch ceremony of the first national report for maternal mortality for 2018 on Monday (Petra photo)
AMMAN — The maternal mortality rate in Jordan dropped to 29.8 deaths for each 100,000 live births in 2018, as compared to 2015 World Health Organisation (WHO) estimations, which recorded a maternal mortality rate of 58 deaths for each 100,000 live births, Health Minister Saad Jaber said on Monday.
Jaber's remarks came during the launch ceremony of the first national report for maternal mortality for 2018, which was attended by Prime Minister Omar Razzaz, the Jordan News Agency, Petra, reported.
Razzaz noted at the ceremony that the figures shown in the report are "promising" when it comes to the Kingdom's health sector and services.
The premier referred to advanced indicators that Jordan has realised in the field of maternal health, where figures of the Health Ministry show that 98 per cent of mothers give birth in hospitals and that there are some 120,000 maternal and childhood centres across the Kingdom.
He also expressed appreciation for USAID's support in seeking a better health system that meets the public's needs, as well as in instituting comprehensive health insurance.
Jaber, for his part, referred to the establishment of the National System for the Detection and Response to Maternal Deaths through the USAID-funded project for comprehensive healthcare.
The minister noted that the system aims at facilitating the identification of the cause of death of mothers between the ages of 15 to 49, in order to accurately report maternal deaths, and working to prevent similar mortalities.
The system obliges all public, private and university hospitals, as well as forensic medicine centres to report maternal deaths within the given age range within 24 hours, Jaber said.
Maternal mortality refers to deaths due to complications from pregnancy or childbirth. From 2000 to 2017, the global maternal mortality ratio (MMR) declined by 38 per cent — from 342 deaths to 211 deaths per 100,000 live births, according to UN inter-agency estimates cited by UNICEF's website.
There has been "significant progress" since 2000. Between 2000 and 2017, South Asia achieved the greatest overall percentage reduction in MMR, with a reduction of 59 per cent (from 395 to 163 maternal deaths per 100,000 live births), UNICEF added.
Newsletter
Get top stories and blog posts emailed to you each day.