You are here
Jordan pharmacy giant draws on skills of fresh graduates, women in growth path
By Maram Kayed - Dec 14,2019 - Last updated at Dec 14,2019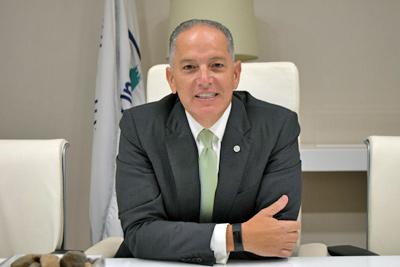 AMMAN — Despite what many call a "flat" year for the Jordanian economy, Pharmacy One opened 25 new branches in 2019, with its President and Founder Amjad Aryan saying that his "faith in better days is unwavering".
In an interview with The Jordan Times, Aryan said that if he had to do it all over again, Jordan would still be his first choice for investment.
Opening the pharmacy chain's first branch in 2001, Aryan said his initial goal was to open 10 branches. Nearly 20 years later, however, Pharmacy One has 106 branches all over the Kingdom.
"In the beginning my dream was 10, then 20, then 30, but I certainly never came to Jordan thinking I was going to open up more than 100 pharmacies. If that is an indicator of anything, it is that an investment in Jordan can prosper and grow far beyond what any investor expects," he said.
Pharmacy One currently employs over 1,000 personnel, a number Aryan hopes to expand.
"Investing in Jordan is not just about making a profit, it is also about employing locals. It is worth noting that around 60 to 65 per cent of our employees are women," he added.
Alongside a largely female workforce, 80 per cent of Pharmacy One's employees are fresh graduates, Aryan said, adding that as part of the company's corporate social responsibility, it has established 10 simulation pharmacies in different Jordanian universities to train pharmacy students.
"There were a lot of complaints from the private sector that these fresh graduates are not ready for the labour market, which is why we established these simulation pharmacies. I like to believe that one has to do something about helping fresh graduates rather than complain about them not having experience," he added.
Dismissing what he called a "general air of negativity" in the Jordanian economic market, Aryan said that "better days are coming".
He pointed out that along with the increase in Jordan's population, building a recognisable name brand and earning consumer trust sit at the heart of his and other businesses' success in Jordan.
"I think if the government were to include us Jordanian investors in dialogue with foreign investors, we could be of great help," said Aryan.
He added that "reassuring foreign investors of the safe and secure Jordanian market, as well as warning them against pitfalls and letting them in on success secrets is beneficial to everyone".
Aryan applauded His Majesty King Abdullah's directive to the government to lower medicine prices, calling the move "essential" in maintaining Jordan's role as a regional and international medical tourism destination.
"We have excellent medical facilities, talented doctors and great medical staff — so why not promote ourselves? We are already well-known for all that inside the Arab world, but now it is time to remarket ourselves to the whole world," he said.
Calling Jordan the "Arab hub" for medical tourism, Aryan believes that what is standing in Jordan's way is that its private and public sectors "do not recognise their own potential".
He called for a collective effort to promote Jordan's local talents and investment advantages, as well as pave the way for new investors.
Newsletter
Get top stories and blog posts emailed to you each day.