You are here
Jordan plays leading role at World Science Forum 2019
By JT - Nov 27,2019 - Last updated at Nov 27,2019
HRH Princess Sumaya, president of the Royal Scientific Society, attends the World Science Forum 2019 in Budapest (Petra photo)
AMMAN — The World Science Forum (WSF) 2019 gathered global scientists and science policymakers last week in Budapest to discuss "Science, Ethics and Responsibility".
The biennial meeting was last held in 2017, when it was hosted by the Royal Scientific Society (RSS) at the Dead Sea in Jordan, according to an RSS statement.
HRH Princess Sumaya, president of the RSS, attended in her capacity as a member of the WSF Steering Committee, accompanied by a team of young scientists and senior RSS staff.
The WSF is a global forum for science policy organised by partner organisations including the UN Educational, Scientific and Cultural Organisation (UNESCO), the International Science Council, the American Association for the Advancement of Science and the Hungarian Academy of Sciences, which hosted this year's forum, the statement said.
The RSS "played a leading role in this year's event", co-organising two major sessions and participating in several others. Princess Sumaya also spoke at the Hungarian Parliament on the final day of the forum on the topic of "Science Diplomacy Now and in the Future".
In an earlier session on "Science for Peace", the RSS teamed up with the InterAcademy Partnership to discuss developments on the theme of Jordan's 2017 WSF.
Another session on Basic Sciences for Development organised by the RSS with several leading international science unions analysed the importance of large science infrastructure projects to promote science in less-developed countries, according to the statement.
This session also celebrated the designation of 2022 as International Year of Basic Sciences for Development by UNESCO. This initiative was led by Jordan through its Permanent Delegation to UNESCO, based in Paris.
WSF 2019 "confirmed Jordan's leading role as a science enabling nation, and a champion for science in the region and the world", through the RSS and its president, Princess Sumaya, UNESCO's Special Envoy for Science for Peace, the statement read.
Related Articles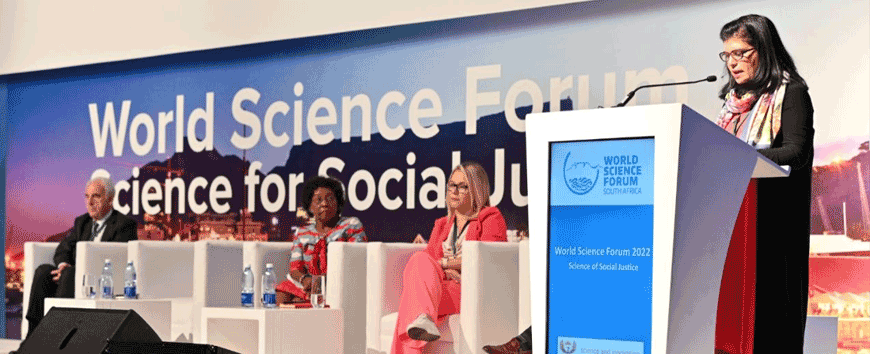 Dec 11,2022
AMMAN — A delegation from the Royal Scientific Society (RSS) participated last week in sessions of the World Science Forum (WSF) 2022 in Cap
Dec 13,2016
AMMAN — HRH Princess Sumaya, the president of the Royal Scientific Society (RSS), on Tuesday welcomed leading international scientists and p
Sep 13,2023
AMMAN — HRH Prince Hassan, Chairman of the Royal Scientific Society (RSS), on Wednesday met with delegates of the Steering Committee of the