You are here
Jordan, Syria reaffirm long-standing ties
By JT - Aug 22,2019 - Last updated at Aug 22,2019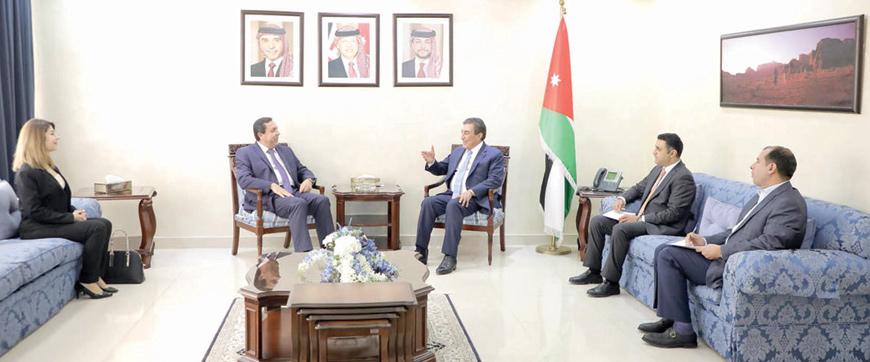 Lower House Speaker Atef Tarawneh (right) discusses the Amman-Damascus relations on Thursday with Syrian Chargé d'Affaires in Amman Shafiq Dayoub (Petra photo)
AMMAN — The history and joint relations that link Jordan with Syria necessitate looking for commonalities and enhancing their benefits, Lower House Speaker Atef Tarawneh said on Thursday.
During a meeting with Syrian Chargé d'Affaires in Amman Shafiq Dayoub, on the occasion of assuming office, Tarawneh said that Jordan has always been keen, during the Syrian crisis, on maintaining the Syrian territorial integrity and the unity of its people, the Jordan News Agency, Petra, reported.
The Kingdom has not accepted to be part of the crisis that resulted in bloodshed and destruction which have only served terrorist and extremist organisations that have been recently defeated by the Syrian army, the speaker stressed.
He added that His Majesty King Abdullah, since the beginning of the war, has been conveying the Kingdom's stance calling for a political solution to the crisis, in a way that preserves the unity of the country and the safe return of refugees.
Tarawneh also referred to the Kingdom's clear stance against the unilateral US decision recognising the Israeli sovereignty over the Golan, where Amman clearly states that Golan is occupied territory as stipulated in all international legitimacy resolutions that illegalise holding control over lands by force.
For his part, the diplomat voiced his country's keenness to develop ties with Jordan, stressing that the Syrian government seeks to enhance bilateral ties at all levels in a way that can realise the interests of both peoples.
He also said that the conditions in Syria have become more stable, especially that the Syrian army is achieving victories on the ground, which allows and encourages Syrian refugees to return to their homeland.
In this regard, he praised the Kingdom's role in exerting "huge, appreciated and exceptional efforts" in hosting Syrian refugees.
Newsletter
Get top stories and blog posts emailed to you each day.