You are here
Jordan, UAE and Israel sign declaration of intent for energy-water project
By JT - Nov 22,2021 - Last updated at Nov 22,2021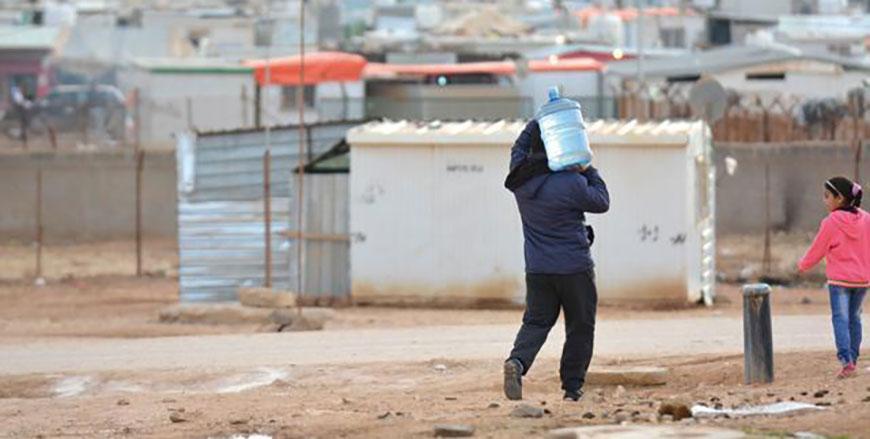 A Syrian refugee carries water at Zaatari camp, some 80km northeast of Amman, in this photo taken on January 28, 2018. Jordan is among the poorest countries in the world in terms of water resources (JT file photo)
AMMAN — Jordan, the UAE and Israel on Monday signed a declaration of intent to negotiate the feasibility of a joint energy and water project.
The declaration of intent was signed at the Expo 2020 Dubai, according to a Ministry of Water and Irrigation statement.
Omar Salameh, Water Ministry's spokesperson, said that the declaration of intent aims to conduct a feasibility study for 2022, noting that Jordan could get 200 million cubic metres of water a year.
The declaration is "not a technical or legal agreement", he said, noting that the project will not be implemented without providing Jordan with the aforementioned amount of water every year.
Salameh added that the project's idea stems from Jordan's growing demand for permanent water resources, which is increasing due to population growth and the industry, agriculture and other sectors' reliance on water.
He noted the limited external support for Jordan, the impact of receiving refugees and the "abnormal" population growth rates within the past several years, which have all increased pressure on infrastructure and the provision of services.
Jordan is among the poorest countries in the world in terms of water resources, he said, predicting that the water deficit in the drinking water sector alone will reach 45 million cubic metres next year.
Salameh said that Jordan receives 35 million cubic metres of water annually in accordance with the peace treaty, in addition to the 10 million cubic metres outside the treaty that was agreed upon in 2010.
For other sources, Jordan depends on the collection of rainwater and groundwater, he said.
The water share per capita in Jordan is 80 cubic metres, compared with a global average of 500 cubic meters per capita, the official added.
The National Water Carrier Project is still a top priority, he said, noting that five coalitions have been qualified, while the project will be referred to the preferred coalition in 2022, adding that the amounts committed so far reached only $600 million, according to the statement.
The Declaration of Intent was signed by Minister of Water and Irrigation Mohammad Najjar, UAE Minister of Climate Change and Environment Maryam Bint Mohammed Al Muhairi and Israeli Minister of Energy Karen Al Harr, in the presence of US Special Presidential Envoy for Climate Affairs John Kerry, and Minister of Industry and Advanced Technology, UAE Special Envoy for Climate Change Sultan Bin Ahmed Al Jaber.
Newsletter
Get top stories and blog posts emailed to you each day.