You are here
Jordanian artist seeks to connect local, int'l art scenes
By Saeb Rawashdeh - Feb 24,2015 - Last updated at Feb 24,2015
AMMAN — Arguing that public interest in art "in the old days" was minimal at best, artist Ihsan Bandak said times are now different, observing a "bloom" in Jordan's art scene and its expansion internationally despite regional turbulence.
Bandak spent the days of his youth in Jabal Luweibdeh, a neighbourhood commonly associated with intellectuals, artists and galleries.
Back in old days "the attention for art in Amman was modest, even minimal."
"However, by the time the public grew a sense for visual arts and understanding of art forms, galleries and cultural centres mushroomed. Many of my colleagues contributed to the art boom by opening art schools, ateliers and galleries," Bandak told The Jordan Times in a recent interview.
"More than 25 years ago I started to think of creating an art space that would support visual artists from the Kingdom and the world," he said.
In 1987 he established Bandak Art International Gallery to organise events in Amman and the region, connecting Jordanian and international visual artists who would attract researchers and art collectors.
"We brought in pioneers of [the] art scene, realising the significance of teaching art techniques to people of all age groups, genders and proficiency levels," added Bandak, who has exhibited his work locally and internationally, most recently in San Francisco at the Arab Cultural and Community Centre in late 2014.
The aim of the art centre is to teach students to use various media and tools, such as pencil, charcoal, oil and water colours, acrylic and ceramics to create art.
"What drove me to that direction was to create the understanding of art which would be both academic and popular, and... help Jordanian development in that direction," said the artist, whose Arab Christian family is originally from Bethlehem, Palestine and who studied art at the University of Illinois in Chicago.
In his San Francisco exhibition, titled "Messages from Palestine", Bandak showcased original paintings on Arab Palestine and places where his family had dwelt for generations.
The exhibition, organised by the Arab Community Centre of San Francisco, was "a successful event", according to the artist, who noted that it connected Arab-American and American cultured circles with the images of traditional Palestinian cities and walls, cobbled streets and shrines.
"Americans were very understanding of the subject of the exhibition and the way it was presented," Bandak added.
However, the engagement with the US cultural centres and institutions is not over for the painter who has ambitious plans for 2015.
"I'm planning to organise an exhibition on Palestine in Washington, DC, and other personal exhibitions in Beirut and Amman. We will also try to develop the learning techniques we use to teach at Bandakart [centre]."
Related Articles
Sep 13,2014
Works by Jordanian artist Ihsan Al Bandak will be on display at the Arab Cultural and Community Centre in San Francisco in the US, in October, according to a statement from the artist.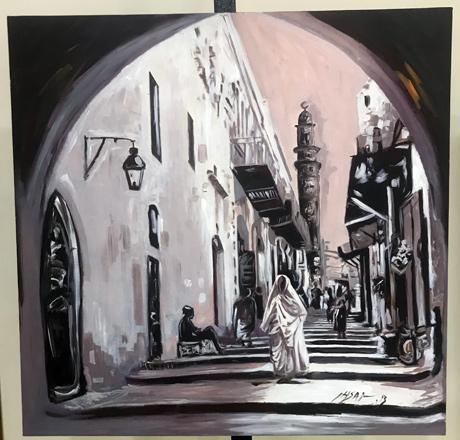 Aug 29,2018
AMMAN — Art is a way to achieve resistance and self-determination, to fight back injustice and apartheid, said Amman-based visual artist Ihs
Jun 28,2022
AMMAN — Under the patronage of HRH Princess Wijdan Al Hashemi, the retrospective exhibition of the artist Nabila Hilmi opened at the Jordan