You are here
Jordanians condemn IS for killing Japanese hostage, offer condolences to Japan
By Mohammad Ghazal - Feb 01,2015 - Last updated at Feb 01,2015
AMMAN — Offering their deepest condolences to Japan, social media users in Jordan on Sunday condemned the killing of Japanese hostage Kenji Goto by the so-called Islamic State (IS) group.
Pictures of Goto were widely circulated on social media outlets, with users denouncing his killing as a cowardly and heinous act and voicing their hope for the release of Jordanian pilot Muath Kasasbeh, who was captured by IS after his plane crashed over Raqqa in Syria in December.
"Goto is no less precious than [Muath]. He carried no weapon. May his soul rest in peace," tweeted Dina Tabbaa (@Dinablues).
Zein Al Fawwaz (@zeinkf) tweeted: "In Islam, killing one person is like killing all humankind. We are with the Japanese hostage."
"Goto was not a war criminal or a captive following a fight with IS. Since when do Muslims kill prisoners and civilians?" Mohammad Al Ersan (@journalistersan) wrote.
In a tweet Sunday, Foreign Minister Nasser Judeh said: "I spoke to my friend FM Kishida of Japan. Offered condolences on murder of #HarunaYukawa and #KenjiGoto. Our two countries are staunch allies."
Another Twitter user Sarah H (@Kressara) said: "Rest in peace Goto. My deepest condolences. IS is pure evil."
Deema Farraj (@Deema22) tweeted: "Our condolences to Japan at these hard times. It is a third world war against terror. We are all in the same boat."
On Saturday, IS released a video that purported to show the beheading of Goto, whom it had been holding hostage, according to Reuters.
Reuters could not immediately verify the video, which showed a hooded man standing over Goto with a knife held to his throat, followed by footage of a body with a head placed on it.
Addressing Japanese Prime Minister Shinzo Abe, the militant in the video said: "Because of your reckless decision to take part in an unwinnable war, this knife will not only slaughter Kenji, but will also carry on and cause carnage wherever your people are found. So let the nightmare for Japan begin."
Related Articles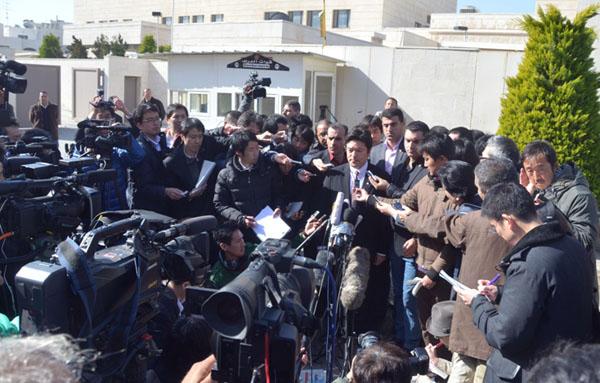 Feb 01,2015
Japanese media representatives in Jordan on Sunday said their compatriots in Japan are deeply saddened by the killing of Kenji Goto at the hands of the so-called Islamic State (IS) group.
Jan 31,2015
The so-called Islamic State (IS) group released a video on Saturday which purported to show the beheading of Japanese journalist Kenji Goto, whom it had been holding hostage.
Jan 26,2015
From the prime minister to ordinary people, Japan was shocked Sunday at a video purportedly showing that one of two Japanese hostages of the extremist Islamic State (IS) group had been killed.
Newsletter
Get top stories and blog posts emailed to you each day.