You are here
Jordanians 'firmly united' after Kasasbeh's death
By Dana Al Emam - Feb 05,2015 - Last updated at Feb 05,2015
AMMAN — Jordanians say the murder of air force pilot Muath Kasasbeh will strengthen the social fabric and reinforce solidarity.
In reaction to the release of a video on Tuesday showing a group of masked members of the so-called Islamic State (IS) group burning Kasasbeh alive, Jordanians said they will stand "firmly" together in these difficult times as they always have.
In phone interviews with The Jordan Times on Wednesday, a random sample of Jordanians said their "grief" over losing Kasasbeh in such an "inhumane" manner unites them.
"We as Jordanians have always stood together in good times and in hard times," said Um Mahmoud, a housewife residing in the capital, who prayed for peace of mind for Kasasbeh's family and all Jordanians.
"I could not sleep last night thinking of his family… and I can only imagine how they felt."
The "very disturbing" way of killing First Lt. Kasasbeh, who was posthumously promoted to captain, "eradicated any possibilities of supporting Daesh" — the Arabic acronym for IS — among those who "might have been hesitant or doubtful", according to Ibrahim Bawaneh.
"Jordanians are united in the fight against terrorism," the Zarqa resident and public sector employee said, highlighting citizens' appreciation for the international community's support.
In Irbid, 80km north of Amman, Muna Ramadan, a teacher at an elementary school and a mother of two, said she talked to her children and will talk to her students about "real Islam" so that they "know for sure" what the religion approves and what it rejects.
Citing His Majesty King Abdullah's reaffirmation on the unity of Jordanians in his televised speech after the release of the murder video, Ramadan said the "We Are All Jordan" motto, which came as a reaction to the Amman hotel bombings on November 9, 2005, holds true once again.
As a citizen living in the southern Governorate of Karak, the birthplace and residence of Kasasbeh and his family, Ahmad Rawashdeh said the entire community "stands firm" with the pilot's family.
"It is the duty of all Jordanians as people who love their country and their fellow citizens to support the Kasasbehs."
Related Articles
Feb 08,2015
My deepest heartfelt condolences to Muath Kasasbeh's family, friends and the entire Jordanian nation.
Dec 27,2014
A number of Lower House deputies on Saturday visited the father of Muath Kasasbeh, the Jordanian pilot currently held captive by the Islamic State group in Syria.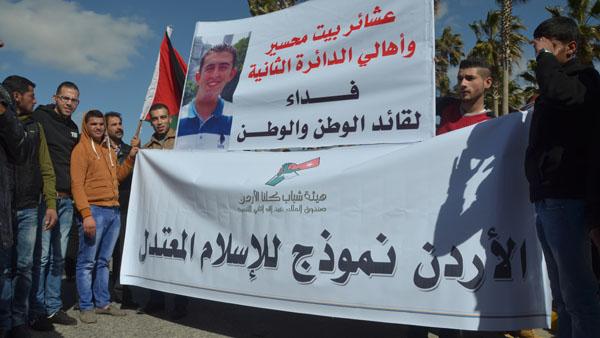 Feb 05,2015
Azzat Aneizat came all the way from the northern Governorate of Ajloun to Queen Alia International Airport (QAIA) on Wednesday to receive His Majesty King Abdullah and express solidarity with the family of air force pilot Muath Kasasbeh, who was murdered by the so-called Islamic State (IS).
Newsletter
Get top stories and blog posts emailed to you each day.