You are here
Jordanians have become stronger, more united in face of terrorism — experts
By Mohammad Ghazal - Aug 13,2018 - Last updated at Aug 13,2018
Hundreds mourn at funeral of Hisham Aqarbeh slain in terrorist attack in Salt (Photo by Osama Aqarbeh)
AMMAN — Analysts on Sunday paid tribute to the speed of security forces in locating the terrorists in Salt, but stressed the need for security personnel to remain vigilant.
Jordan, which has been on the frontline in combating terrorism, enjoys a strong and long experience in dealing with terrorist attacks, experts said, urging continued cooperation to uproot terrorism, which is a global threat.
"This is not the first time terrorists target Jordan and Jordanians rise up more unified and stronger than ever in the face of terrorism," retired major general and strategic analyst Adeeb Sarayreh told The Jordan Times on Sunday.
Sarayreh said the Jordanian security forces have succeeded in thwarting major terrorists' plots inside the Kingdom over the years and were part of global efforts to uproot terrorism at regional and international levels.
"Terrorists seek to cause instability in the country and cause division, but they will never succeed as Jordanians become stronger in the face of such extremists and historically Jordan has been growing stronger in the face of extremism," Sarayreh stated.
For Fayez Dweiri, a retired major general and a military analyst, tightening the grip on "potential dormant cells" and staying alert amidst regional developments is "much needed" at this stage.
"I think the terrorists blew up the building as they were keen to leave no clues and evidences behind, but the arrest of five on them is a success and could lead to more significant information," Dweiri told The Jordan Times.
Four officers died in the raid on a building where some terrorists barricaded themselves in Salt, northwest of Amman, while several others, including civilians, were injured.
No group claimed responsibility of the attack.
"I believe the attack bears the 'hallmark' of the terrorist group Daesh and security forces need to remain on high alert," he stressed.
Dweiri added that Jordan needs to tighten the crackdown on all blacklisted and wanted radicals, and to continue engaging in the war against terror.
Jamal Al Shalabi, a professor of political science at the Hashemite University, agreed, saying that Jordan has always been targeted by terrorist groups.
In 2016, four terrorists were killed in a security operation in the southern governorate of Karak after 10 people were killed in terror attacks, including four police officers and three gendarmes.
Also in 2016, specialised security forces raided a residential building in Irbid downtown to arrest a group of armed persons whom sources said were outlaws belonging to a terrorist group. Captain Rashed Hussein Zyoud was killed in the raid while four of the extremists were left dead.
In the same year, six Jordanian troops were killed and 14 others wounded when a booby-trapped car struck a forward military post at the no man's land at the borders between Syria and Jordan.
"Jordan has for long been on the frontline in combating terrorism and Jordan being an effective partner in the international alliance against terrorism makes the Kingdom a target for terrorists," Shalabi told The Jordan Times, stressing that such attacks have made Jordanians stronger.
"Such terrorist attacks made Jordanians more unified over time and, due to this unity, Jordan succeeded in overcoming these conditions. It is national unity that makes Jordan resilient to such shocks or any challenges," Shalabi concluded.
Related Articles
Mar 17,2016
AMMAN — Russia's decision to begin withdrawing troops from Syria is likely to help decrease fighting across the borders in south of Syria as
Jun 22,2016
AMMAN — The terrorist attack that claimed the lives of six Jordanian troops and injured 14 others will make Jordan stronger and more resilie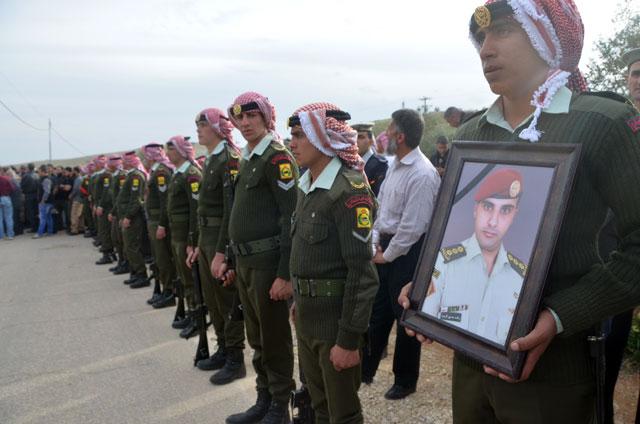 Mar 03,2016
AMMAN — Foiling the terror plot by Daesh in the Kingdom's northern region sends a strong message to terrorist groups seeking to undermine th