You are here
Jordanians have a soft spot for sweets, despite health risks
By Dana Al Emam - Oct 05,2015 - Last updated at Oct 05,2015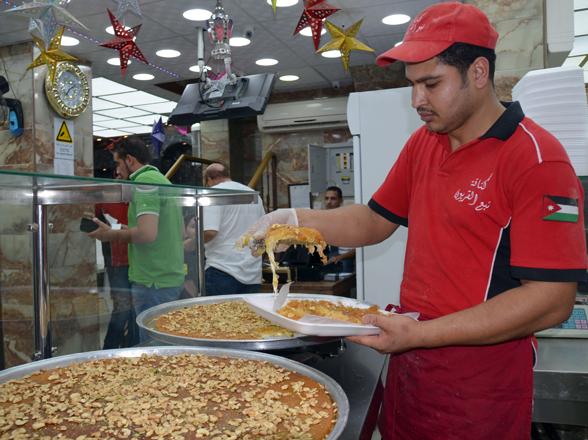 A worker serves kunafa at a restaurant in Amman on Saturday (Photo by Osama Aqarbeh)
AMMAN — Over 90 per cent of Jordanians prefer sweet snacks to salty ones, with kunafa and cakes being the favoured ones, according to a nutritionist, Majd Khatib.
However, in some seasons demand for other sweets increases, such as qatayef and awwama during the month of Ramadan, where fasting Muslims find themselves in need to compensate for the long hours with no sugar intake.
Qatayef are pancakes stuffed with cheese, nuts, or cream and then baked or fried before they are dipped in condensed sugar syrup, usually served in Ramadan.
"We advise people not to consume over a 250 gramme kunafa piece every one or two weeks," she told The Jordan Times Sunday over phone, warning against the "unhealthy" consequences of excess sugar.
The World Health Organisation recommends adults and children to reduce their daily intake of free sugars to less than 10 per cent of their total energy intake. A further reduction to below 5 per cent or roughly 25 grammes (six teaspoons) per day would provide additional health benefits.
Many of Khatib's clients are used to a daily intake of a minibar of chocolate, a habit they say they "cannot live without", according to her account, adding that some of them succeed in reducing their chocolate consumption.
The situation is similar for Abu Ahmad Bawwab, who calls himself a "sweets addict".
The father of five spends weekly some JD20 on sweets, but when temperatures drop, he finds himself rushing to the sweets shop more often.
"My wife and I prefer traditional Arabic sweets, especially kunafa, but my kids prefer modern sweets, such as cakes and ice cream," he told The Jordan Times, adding that he knows he is risking his health for diabetes "but cannot help it!"
Burning the calories
The nutritionist encourages a 30-minute walk three to five times a week in order to burn extra calories.
"Even what we think is an insignificant walk, such as going to the supermarket on foot instead of driving and walking to the kitchen to get ourselves a glass of water instead of asking anyone else to do it for us can help our bodies," she said.
Busy mothers with many responsibilities must not neglect their bodies, she said, encouraging them to buy a workout DVD, such as zumba, and to exercise at home with their children.
"Not having the time to exercise is never an excuse," she concluded.
| | |
| --- | --- |
| The type of Arabic sweets | Calories |
| Kunafa | 410 per 100 grammes |
| Ben Narein | 125 per piece |
| Qatayef with cheese | 280 per big piece |
| Qatayef with Walnut | 400 per big piece |
| Hareeseh | 175 per 80 grammes |
| Ghraybeh | 70 per piece |
| Baklava | 560 per 100 grammes |
| Barazeq | 400 per 100 grammes |
| Date mamoul | 135 per piece |
| Pistachio mamoul | 125 per piece |
Related Articles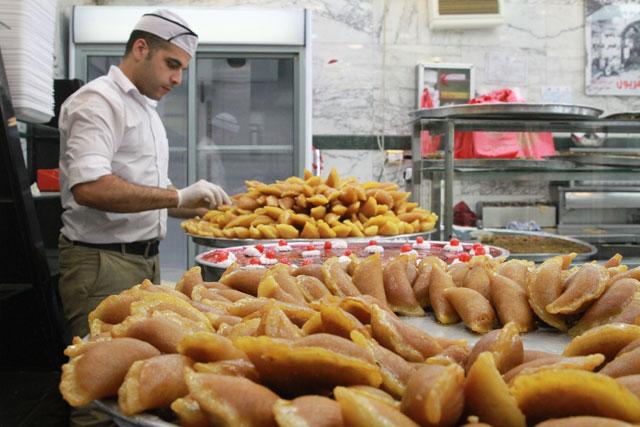 Jun 08,2016
AMMAN — As Ramadan begins, many look forward to a month of sugary desserts, but experts suggest modifying these traditional sweets or choosi
May 31,2016
AMMAN — As some see in the fasting month of Ramadan an opportunity to lose weight, health experts said the best time to practise sports is i
Mar 08,2015
UN recommendations to curb sugar intake may face an uphill battle for acceptance, experts say — confronted by an ingrained human yearning for sweetness.
Newsletter
Get top stories and blog posts emailed to you each day.