You are here
Jordanians show support to Kingdom's joining anti-terror coalition
By Muath Freij , Raed Omari - Sep 24,2014 - Last updated at Sep 24,2014
AMMAN — Political commentators and military experts hailed the air strikes the Royal Jordanian Air Force (RJAF) launched Tuesday against the Islamic State (IS) group in Syria, describing Jordan's membership in the US-led coalition against the radical militia as highly needed.
Jordan Armed Forces also said the air force at dawn launched air strikes against "terrorist groups" that were planning attacks in Jordan.
For veteran political analyst Saleh Qallab, Jordan was forced to resort to military escalation against IS and other terrorist organisations in Syria with their frequent attempts to penetrate into the Kingdom "under the protection of the Syrian regime".
For almost four years, Qallab said, Jordan has shown much restraint in the face of the attempts to penetrate its northern and eastern borders by IS, Jabhat Al Nusra and other radical groups.
Qallab, a senator who has served as media affairs minister, also said that RJAF's bombardment of the radical groups' posts in Syria carried a "warning message" to the Syrian regime that the Jordanian response will be harsher next time if such groups continue to threaten the Kingdom.
Retired Major General Adeeb Sarayreh said that all Jordanians agree that the threat posed by IS and other groups on their country's security and stability is real, arguing that such terrorist organisations have threatened to target Jordan long before Amman's decision to be part of the US-led coalition.
With regard to such radical groups being a cross-border threat, Sarayreh explained that Jordan has decided to attack them before they try to cross its borders the way they did in Iraq.
"The air strikes were a wise action by Jordan. Destroying the radical group's headquarters and posts is such a highly needed procedure to prevent them from expanding into other countries," Sarayreh told The Jordan Times.
However, the general said that IS, Al Nusra Front and other radical organisations also pose a direct internal threat to Jordan, citing the "considerable" number of sympathisers and supporters they have in the Kingdom and possible terror attacks inside the country.
"Jordan, anyway, has strong, vigilant and competent armed forces and security bodies that can deter these radicals," he said.
In the street, Jordanians were reluctant to comment on the development, but they reacted actively on social media platforms.
Hassan Abu Ali, the owner of a bookshop in downtown Amman, said he supports Jordan's participation in the strike against IS in order to ensure the safety of the Kingdom.
"I hope that they will erase them. They pretend that they are Muslims but they do not represent Islam at all," he told The Jordan Times.
He said their existence represents a great threat not only to the region, but also to the entire world.
The Jordan Times' Facebook followers also commented on today's strike.
Nader Tomalieh said: "All Arab countries should learn from Jordan how to stand up and fight evil ISIS !!!!".
"May Allah grant victory 2 Jordan," commented Rula Dabbas.
Mwafak Kfouf said: "Jordan should and must help in fighting terror anywhere."
Related Articles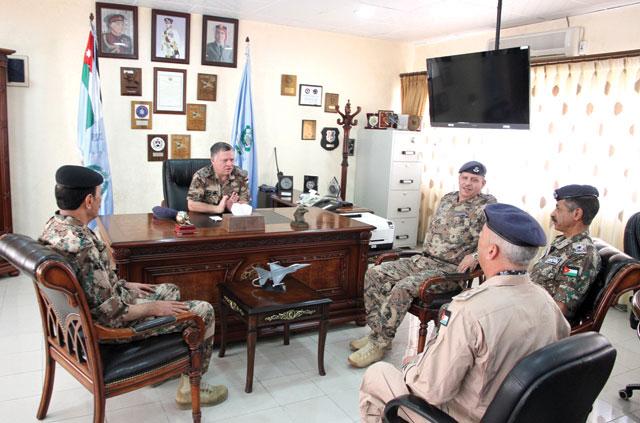 Sep 30,2014
His Majesty King Abdullah, the Supreme Commander of the Jordan Armed Forces, on Tuesday visited one of the Royal Jordanian Air Force (RJAF) bases, where he expressed satisfaction with the performance of the corps.  
Sep 25,2014
HRH Prince Feisal, the Regent and Deputy Supreme Commander of the Jordan Armed Forces (JAF), on Wednesday paid a field visit to several army units of Royal Jordanian Air Force (RJAF) bases.
Jan 20,2014
His Majesty King Abdullah, the Supreme Commander of the Jordan Armed Forces, on Monday paid a visit to the Royal Jordanian Air Force (RJAF) Headquarters.
Newsletter
Get top stories and blog posts emailed to you each day.