You are here
Jordanians take to social media to pray for captive pilot's safe return
By Raed Omari - Jan 28,2015 - Last updated at Jan 28,2015
AMMAN — Social media websites were flooded Tuesday with pictures of Jordanian air force pilot Muath Kasasbeh, held captive by the so-called Islamic State (IS) group, with hundreds of comments describing him as a "national hero".
Tens of groups have been created on Facebook with names such as "Muath Kasasbeh", "We are all Muath Kasasbeh," "Muath is not only a prisoner," where photos of the pilot with family and friends and next to his F-16 warplane were shared.
Most of the comments came in the form of prayers for his safe return, while other users criticised the "rumours" spread by people and "unprofessional" online news outlets that published either inaccurate or sensitive reports about Kasasbeh only to drive traffic to their websites.
"Local news agencies should make national interests their major priority and avoid running baseless reports with the sole purpose of finding scoops. We have to be careful and sensitive about Muath's life," Facebook user Mohammad Al Khateeb wrote.
Some expressed confusion over whom to believe — the government or Jihadi Salafists — saying that both sides have made "contradictory" statements.
Sakher Al Khasawneh wrote on his Facebook page, saying Jordanians are in a state of confusion when it comes to news about Kasasbeh and the prisoner swap with IS.
In a video released on Tuesday IS threatened to kill Kasasbeh and Japanese hostage Kenji Goto if Jordan does not release convicted terrorist Sajida Rishawi.
But the group said it will only release Goto in return for Rishawi. On Wednesday, the government said it would release Rishawi, who is on death row for her part in the 2005 Amman hotel bombings that killed over 60 people, in return for the freedom of Kasasbeh.
The official statement made no mention of Goto.
Some social media users, such as Marwan Al Manaaseh, charged that the government only gave importance to Kasasbeh's life when a Japanese man became involved.
Abdullah L. Odetallah made the same remarks on his Facebook page: "Why only now is Muath's case under the spotlight? Only because there is a Japanese hostage involved!"
Other Facebook users like Al Muthana Mahdawi had a different take on the issue.
"Muath is a hero after all. Let's not forget that Muath is a soldier at the end of the day who deliberately accepted to risk his life for the sake of his country," he wrote.
Praising the pilot and his "brothers in arms", Eman M. Sheyab wrote on her Facebook page: "Muath's story is both heroism and sacrifice."
Related Articles
Jan 28,2015
Jordanians on Wednesday were preoccupied with news concerning a possible deal between the government and the so-called Islamic State (IS) group to release Jordanian pilot Muath Kasasbeh in return for terror convict Sajida Rishawi.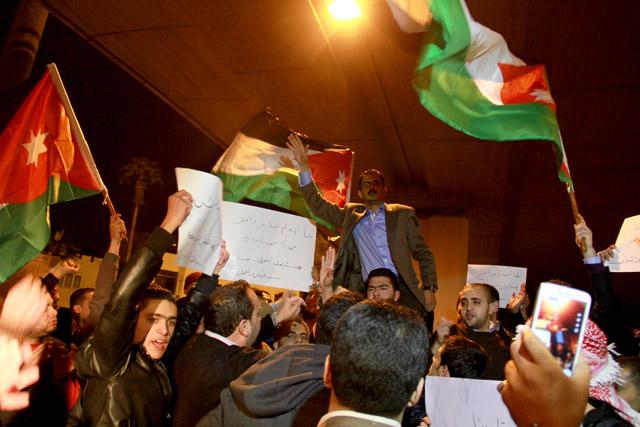 Feb 03,2015
Jordan on Tuesday threatened an "earth-shaking response" for the burning alive of Jordanian pilot Muath Kasasbeh by the so-called Islamic State (IS) terrorist group, while His Majesty King Abdullah urged Jordanians to stand united at these crucial times.
Feb 01,2015
Offering their deepest condolences to Japan, social media users in Jordan on Sunday condemned the killing of Japanese hostage Kenji Goto by the so-called Islamic State (IS) group.
Newsletter
Get top stories and blog posts emailed to you each day.