You are here
Jordan's real GDP growth per capita forecast to grow by 1.9% in 2022 — WB
WB's economic update forecasts 'tenuous and uneven' GDP per capita recovery across MENA in 2021
By Batool Ghaith - Oct 07,2021 - Last updated at Oct 07,2021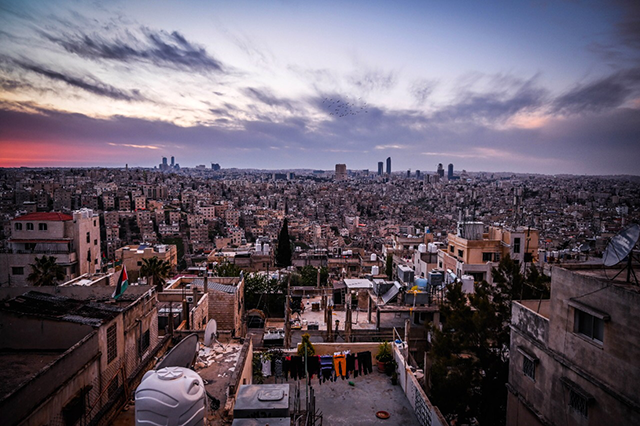 The World Bank's latest regional economic update indicated that Jordan's real GDP growth per capita is forecast to grow by 1.9 per cent in 2022, after declining by -2.5 in 2020 (File photo)
AMMAN — The World Bank's (WB) latest regional economic update indicated that Jordan's real GDP growth per capita is forecast to grow by 1.9 per cent in 2022, after declining by -2.5 in 2020.
The regional economic update titled "Overconfident: How Economic and Health Fault Lines Left the Middle East and North Africa Ill-Prepared to Face COVID-19", said that that MENA's health systems were stressed prior to the pandemic.
High public wage bills crowded out investments in social services such as health, a symptom the report describes as "fiscal myopia".
As for GDP per capita, which is a measure of living standards, the report forecasts "a tenuous and uneven recovery" across MENA in 2021. The region's GDP per capita is forecast to grow by only 1.1 per cent in 2021 after declining by 5.4 per cent in 2020. By the end of 2021, the region's GDP per capita will still be below the 2019 level by 4.3 per cent.
The report indicates that 13 out of 16 countries in the region will have lower standards of living in 2021 than their pre-COVID levels. For individual countries, the growth rate of GDP per capita in 2021 is uneven, ranging from -9.8 per cent in Lebanon, to 4.0 per cent in Morocco.
According to the report, long-term socio-economic trends and underfunded public health systems left the MENA region ill-prepared to respond to the pandemic, which contributed to "a tenuous and uneven recovery" as the region struggles to emerge from COVID-19.
The estimated cumulative cost of the pandemic in terms of GDP losses in the region by the end of this year will amount to almost $200 billion, the report said, noting that these costs are calculated by comparing where the region's GDP would have been if the pandemic had not hit.
The report noted that the region's GDP contracted by 3.8 per cent in 2020 and is forecast to grow by 2.8 per cent in 2021.
Ferid Belhaj, World Bank Vice President for the Middle East and North Africa, noted that the pandemic's crippling impact on economic activity in the region is "a painful reminder" that economic development and public health are inextricably linked.
"The pandemic was a sad reality check that MENA's health systems, which were considered relatively developed, cracked at the seams under the crisis. Going forward, there must be a stronger focus on building core public health functions and leveraging the power of health data and preventive health systems to accelerate the region's recovery and to prepare for future public health emergencies that may arise due to future pandemics, climate-related disasters and even social conflict," Belhaj said in the report.
The data in the report show that fewer resources are devoted for preventive health and building a health system.
Data for 65 countries, including three in MENA — Egypt, Tunisia and Jordan — show that preventive healthcare expenditure as a share of general government expenditure in these three MENA countries, is lower than it is in other countries in the sample.
The report noted that Jordan, Egypt and Tunisia spend less on building a national health system (as a share of total government spending) than their income peers, as their share of preventive healthcare is lower than would be predicted based on income.
According to the report, MENA's rates of communicable diseases did not recede as quickly as in the rest of the world during the past 10 years. More than half of the developing countries in MENA suffered higher NCD (non-communicable disease) death rates than peers, except Jordan, Algeria, Tunisia, and Iran.
The report indicated that MENA countries' Global Health Security Initiative (GHSI) data consistently underperformed their income-level benchmarks, every country except Jordan has at least one pillar in which it underperformed peers, while only Jordan and Morocco have three pillars in which they outperformed peers.
The report finds that the region's public health systems were not only ill-prepared to absorb the shock of the pandemic, but that authorities had previously painted "an overly optimistic picture in self-assessments of their health systems' preparedness". This is what the report calls "overconfidence".
Regarding the regional tendency towards overconfidence, in four pillars across 15 countries comparing subjective and objective deviations, MENA countries displayed over-confidence in 41 of 60 cells. Kuwait, Saudi Arabia, Libya, and Jordan stand out for having scores below zero (indicating greater humility about health system capabilities relative to income peers) in more than three pillars.
Insufficient data collection and use might have significantly contributed to this overconfidence. The report argues that improvements in data transparency for public health can help countries not only address perennial healthcare needs but also prepare for future health emergencies.
"The last two years have shown that pandemic control is essential not only to save lives but also to accelerate economic recovery. Stressed health systems and lagging vaccinations in many middle-income and low-income countries in the region are harbingers of downside risks," Roberta Gatti, World Bank Chief Economist for the Middle East and North Africa Region, said in the report.
The current underinvestment in public health systems needs to be urgently addressed by prioritising investments on core public health functions within public sector budgets, the report said.
Newsletter
Get top stories and blog posts emailed to you each day.