You are here
Kamal Malkawi, victim of Monday's shooting, laid to rest
By Muath Freij - Nov 11,2015 - Last updated at Nov 11,2015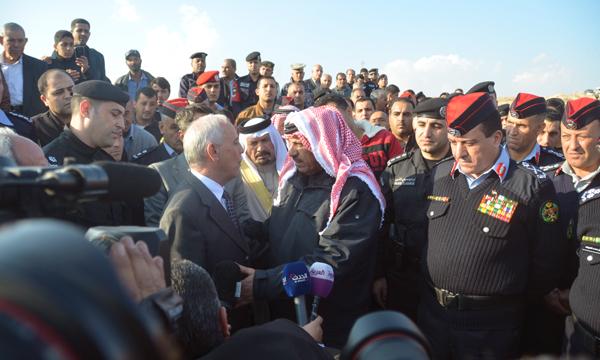 Deputising for His Majesty King Abdullah, Interior Minister Salameh Hammad attends the funeral of Kamal Malkawi in Zarqa on Tuesday (Photo by Muath Freij)
ZARQA — Kamal Malkawi, who was among the victims of Monday's shooting at a police training facility in east Amman, was laid to rest in Zarqa's Hashemiyeh cemetery on Tuesday.
Interior Minister Salameh Hammad, who deputised for His Majesty King Abdullah, and Public Security Department (PSD) Director Maj. Gen. Atef Saudi joined around 150 relatives and friends of Malkawi at the funeral. "This is an awful incident, but it is fate, preordained by God," Malkawi's father, Ahmad, told The Jordan Times at the cemetery.
In addition to Malkawi, one Jordanian, two Americans and one South African who were PSD contractors were killed in the shooting, which also injured six people.
A statement issued by the Malkawi tribe and carried by local news website Khaberni said the deceased was 35.
He was reportedly working as a translator with the PSD.
Describing Malkawi as one of the country's soldiers Hammad said the shooting was a painful incident.
"In Jordan's history, the country has been subjected to many crises," he told reporters. "It is expected that Jordan would witness such incidents, but God willing, this will be the last one. This incident shows that criminal activity will not leave Jordan, but the Kingdom is ready to stand against anyone who wants to endanger its security," he added.
Saudi said security personnel and the Jordanian people will stand against those seeking to threaten the Kingdom's security.
Hammad said an investigation into the incident is ongoing and the results might be available this week.
Former chairman of the joint chiefs-of-staff retired Gen. Mohammad Yousef Malkawi spoke on behalf of the tribe at the funeral, the Jordan News Agency, Petra, reported.
Jordanians, he said, will remain united in their efforts to safeguard their homeland and combat extremism.
Related Articles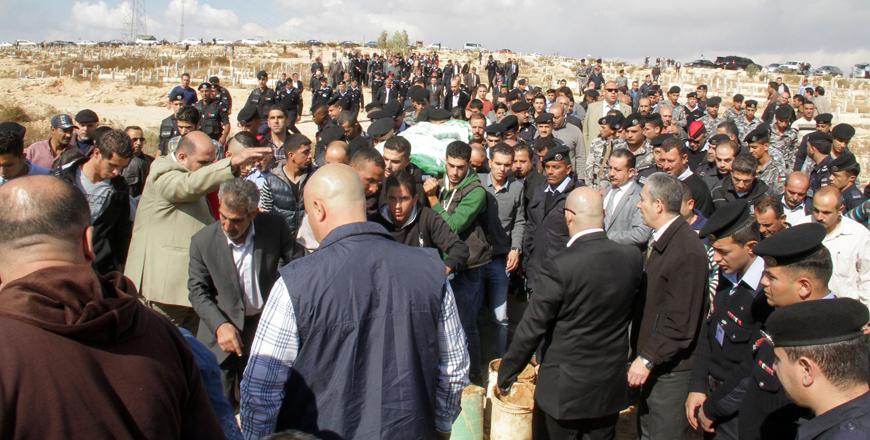 Nov 12,2015
AMMAN — Awni Aqrabawi, who was among the victims of Monday's shooting at a police training facility in east Amman, was laid to rest in Zarqa
Nov 11,2015
AMMAN — The government is working closely with the authorities of countries whose citizens were among the victims shot dead by a Jordanian p
Nov 17,2015
AMMAN — Unconvinced with the authorities' findings in the deadly shooting at a police training centre earlier this month, the family of Capt
Newsletter
Get top stories and blog posts emailed to you each day.