You are here
King attends Sisi inauguration, vows more support to Egypt
By JT , Agencies - Jun 08,2014 - Last updated at Jun 08,2014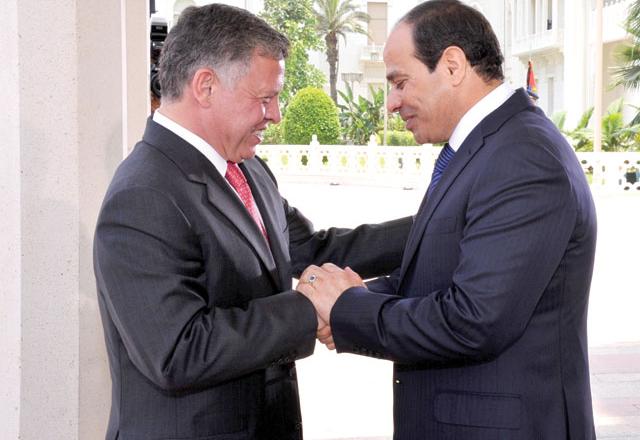 AMMAN — His Majesty King Abdullah on Sunday attended the inauguration ceremony of Egypt's elected President Abdel Fattah Al Sisi.
The King congratulated Sisi, who was sworn in on Sunday, for a landslide win in the recent elections, in which he claimed 96 per cent of the votes, according to a Royal Court statement.
In a meeting following the ceremony, King Abdullah and Sisi discussed ways to boost bilateral cooperation at all levels, stressing their commitment to furthering coordination to best serve the interests of the two countries and the Arab issues.
The Monarch underlined Jordan's support to Egypt and the choices of its people, in addition to backing the country's efforts in entrenching security and stability, while building on its achievements.
For his part, the Egyptian president thanked Jordan for its stances towards Egypt, thanking His Majesty for his efforts to enhance joint Arab action.
The King, who returned home later in the day, also attended a lunch banquet held by Sisi in honour of leaders taking part in the inauguration ceremony.
Sisi vowed Sunday to build a stable Egypt as he was sworn in as president almost a year after he overthrew the country's first freely elected leader folwing massive protests, Agence France-Presse, reported.
The retired field marshal became Egypt's second elected president since a popular uprising overthrew longtime strongman Hosni Mubarak in 2011, unleashing more than three years of unrest.
Western countries, alarmed by the brutal crackdown on dissent following Sisi's July 3 ousting of Islamist president Mohamed Morsi , mostly sent low-level representatives to his inauguration.
In a speech to Arab leaders, foreign dignitaries and Egyptian public figures at the presidential palace, Sisi said it was time "for our great people to obtain the fruits of their two revolutions".
"The time has come to build a more stable future," he said, after signing a power transfer with outgoing interim president Adly Mansour, a chief justice who Sisi had installed when he toppled Morsi.
Many Egyptians view Sisi as the leader best suited to restoring stability.
Soldiers and police were deployed in force around Cairo in anticipation of protests by the battered Brotherhood movement and possible militant attacks. No violence was reported.
Hundreds of Sisi supporters celebrated by setting off fireworks at the capital's iconic Tahrir Square, with its entrances guarded by armoured army vehicles.
Sisi took his oath at the Constitutional Court, next to the hospital where his predecessor Mubarak, 86, is being detained after being convicted of corruption.
Elite policemen stood guard outside the court as helicopters dropped posters of Sisi on well-wishers who turned up to see the former army commander.
Riding a wave of popularity since Morsi's overthrow, Sisi won the May 26-28 election with 96.9 per cent of the votes against his only rival, leftist leader Hamdeen Sabbahi.
Stability and economy
The nature of his election victory showed Sisi still enjoyed immense support for his overthrow of the divisive Morsi, after millions held protests demanding an end to the Islamist's turbulent year in power.
But the lower-than-anticipated turnout of about 47 per cent denied him the overwhelming mandate he had called for ahead of the vote.
Sisi's main challenges will be to restore stability and revive the economy after the three years of turmoil that followed a 2011 uprising that ousted Mubarak.
Since Morsi's ouster, the crackdown on his supporters has killed more than 1,400 people and left thousands behind bars, while militants have killed hundreds of policemen and soldiers.
Sisi's opponents fear that under his rule Egypt will return to an autocratic regime, worse than under Mubarak.
In the run-up to the election, Sisi said that "national security" takes precedence over democratic freedoms.
Sisi will be the fifth Egyptian president to rise from the ranks of the military, and is expected to reassert the army's grip on politics.
Saudi Arabia's King Abdullah, who opposed the Brotherhood, called for a donor conference to help Egypt after the results were announced.
The Saudi king was represented at inauguration ceremony by Crown Prince Salman Bin Abdulaziz, alongside the rulers of Kuwait and Bahrain.
Washington has voiced concerns about "the restrictive political environment" during the vote, urging Sisi to show "commitment to the protection of the universal rights of all Egyptians".
Senior State Department official Thomas Shannon represented Washington at the palace ceremony.
Related Articles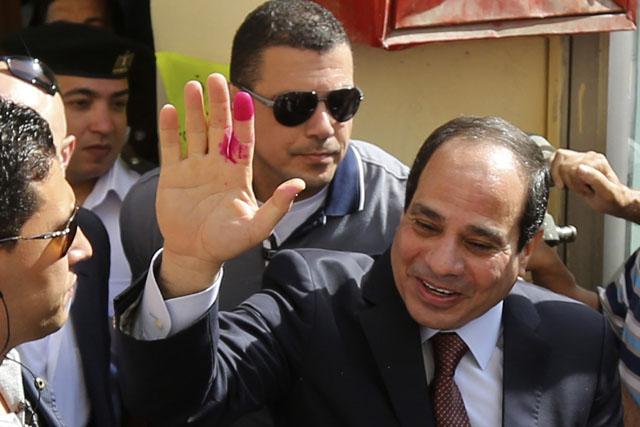 May 26,2014
Egyptians voted for a new president Monday in an election expected to sweep to power the ex-army chief who overthrew the country's first democratically elected leader and crushed his Islamist movement.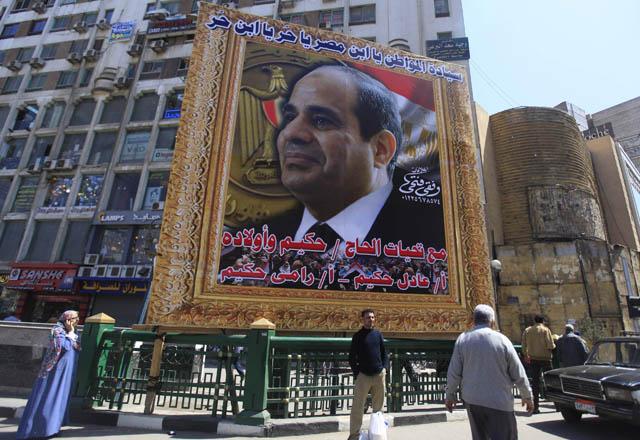 Mar 27,2014
Abdel Fattah Al Sisi is assured of winning Egypt's forthcoming presidential vote but at the cost of reviving the era of strongman rule as he faces a dilapidated economy and rising militancy.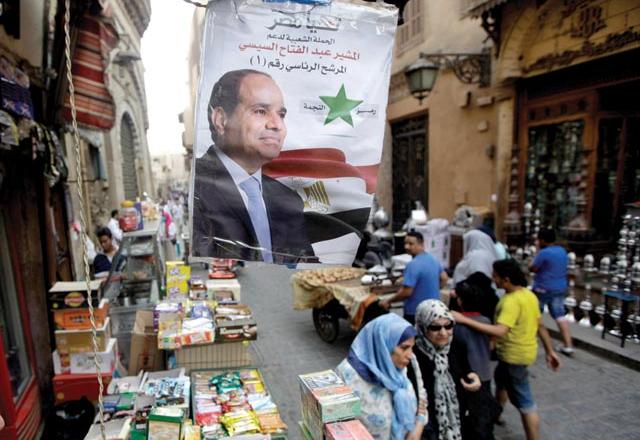 May 25,2014
Along a busy Cairo roundabout, a poster portrays presidential front-runner Abdel Fattah Al Sisi as a teacher, engineer, doctor and judge, reassuring supporters who see him as Egypt's saviour.
Newsletter
Get top stories and blog posts emailed to you each day.