You are here
King delivers remarks at Christchurch Call summit
By JT - May 15,2021 - Last updated at May 15,2021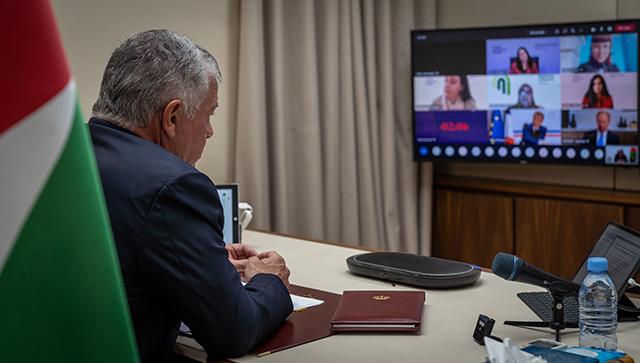 Amman — His Majesty King Abdullah on Friday warned against leaving the Palestinian-Israeli conflict without a comprehensive and just solution that fulfils all the legitimate rights of the Palestinian people, noting that the violence caused by dangerous Israeli violations against Al Aqsa Mosque and Jerusalemites threatens stability and security and fuels extremisms and hate speech.
Delivering remarks at the Christchurch Call to Action to Eliminate Terrorist and Violent Extremist Content Online summit via teleconference, King Abdullah noted that injustice and the lack of political solutions fuel extremism, as terrorists exploit feelings of disenfranchisement to win over supporters.
During the summit, attended by His Royal Highness Prince Ghazi bin Muhammad, His Majesty's chief adviser for religious and cultural affairs and personal envoy, His Majesty also warned of the rising global threat of terrorism and extremism in light of the economic, humanitarian, and social repercussions of the lockdowns in place to counter the COVID-19 pandemic around the world.
Also during the summit—co-chaired by French President Emmanuel Macron and New Zealand Prime Minister Jacinda Ardern and attended by a number of heads of state and government and representatives of global technology companies—the King reaffirmed that Jordan will continue its efforts to counter terrorism and extremist ideologies through the Aqaba Process and in partnership with various stakeholders and international initiatives.
His Majesty underscored the need to confront extremists' attempts to exploit technology and social media to promote their dark and radical ideologies that sow discord and division, stressing the need to counter terrorism with a holistic approach.
In remarks at the opening of the summit, President Macron commended Jordan's key role, led by the King, in countering terrorism and extremist content online, through the Aqaba Process initiative, noting that His Majesty was among the first to lead such efforts.
The summit is part of ongoing global efforts to counter extremism and terrorism in all its forms, and builds on progress made at the first Christchurch Call summit held in Paris in May 2019, following the terrorist attack on two mosques in Christchurch, New Zealand, on March 15 that year.
Jordan, under the umbrella of the Aqaba Process meetings, hosted a follow-up meeting to the Paris summit with representatives of global ICT companies, and organised the "Leaders Dialogue: Strategic Responses to Terrorist and Violent Extremist Narratives" high-level meeting in September 2019, in cooperation with the UN, France, and New Zealand.
The Aqaba Process, launched by His Majesty in 2015, aims to enhance security and military coordination and cooperation, as well as the exchange of expertise and information, among various regional and international stakeholders, to counter terrorism within a holistic approach.
Deputy Prime Minister and Foreign Minister Ayman Safadi and Director of the Office of His Majesty Jafar Hassan attended Friday's summit.
Newsletter
Get top stories and blog posts emailed to you each day.