You are here
King directs government to study producing food items locally to ensure sufficient strategic reserves, increase local production
By JT - Apr 06,2020 - Last updated at Apr 06,2020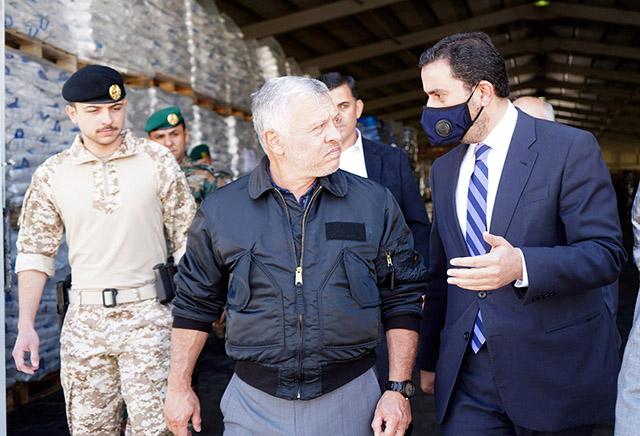 His Majesty King Abdullah visits the Civil Service Consumer Corporation warehouses on Monday, accompanied by HRH Crown Prince Hussein (Photo courtesy of Royal Court)
AMMAN — His Majesty King Abdullah on Monday directed the government to study producing food items locally in coordination with local companies and factories, to ensure sufficient strategic reserves under all circumstances and to increase local production.
During a visit to the Civil Service Consumer Corporation warehouses, King Abdullah, accompanied by HRH Crown Prince Hussein, stressed the importance of enhancing the strategic reserves of food items and ensuring the safety and quality of these products, in line with the highest standards, according to a Royal Court statement.
His Majesty directed the government to devise a plan to maintain the continuation of food supplies and the Kingdom's strategic stock, calling on all concerned sectors to prepare for the holy month of Ramadan and to cover consumers' needs of basic food items around Jordan.
The King listened to a briefing by Minister of Industry, Trade and Supply Tareq Hammouri, who said that food reserves are sufficient and within safe levels.
Hammouri added that the level of basic commodities is monitored and evaluated regularly, noting that the ministry is prepared for all possibilities, including worst-case scenarios such as an inability to import goods, the statement read.
The minister stressed that the Kingdom's strategic reserves of basic food items, such as rice, sugar and wheat, are sufficient, in addition to the local production of poultry and produce.
He added that work is under way to prepare for the upcoming fasting month of Ramadan, the ninth month of the Islamic lunar calendar, when consumption typically rises in the Kingdom.
For his part, Civil Service Consumer Corporation Director Salman Qudah said that quality products are being provided at the corporation's 67 markets at reasonable prices after being subjected to lab tests.
He noted that the corporation is working to maintain strategic reserves that cover demand for five to six months, with a focus on buying national products.
Military Service Consumer Corporation Director Brig. Gen. Ayman Batran said the corporation provides basic commodities to the public at its 110 markets and maintains strategic reserves to cover consumer needs around the Kingdom's regions, according to the statement.
Newsletter
Get top stories and blog posts emailed to you each day.