You are here
King follows up on measures to counter COVID-19, safeguard citizens' wellbeing
By JT - Mar 29,2020 - Last updated at Mar 29,2020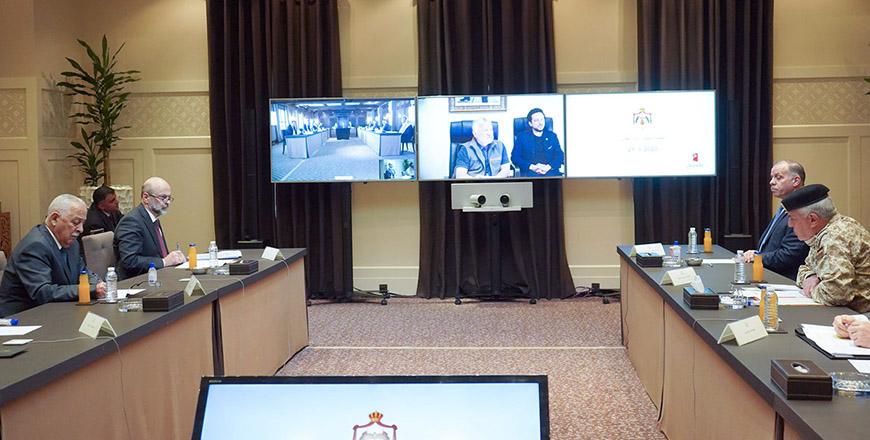 His Majesty King Abdullah chairs a National Policies Council meeting, held via teleconference and attended by HRH Crown Prince Hussein, to follow up on measures to counter COVID-19 (Photo courtesy of Royal Court)
AMMAN — His Majesty King Abdullah on Sunday directed the government to secure citizens' needs of basic commodities and monitor market prices, in line with his concern for the wellbeing of Jordanians and ensuring that officials, the Jordan Armed Forces-Arab Army and security agencies continue to prioritise the health and wellbeing of the public.
Chairing a National Policies Council (NPC) meeting to follow up on measures to counter the coronavirus disease (COVID-19), attended by HRH Crown Prince Hussein, King Abdullah stressed the need to continue testing to detect the spread of the virus and ensure the safety of the public, according to a Royal Court statement.
During the meeting — held via teleconference and attended by HRH Prince Feisal, adviser to His Majesty and chairperson of the NPC — the King also directed the government to ensure business continuity during these exceptional circumstances to counter the pandemic and its repercussions on various sectors.
His Majesty stressed the importance of firmly upholding the law to prevent abuses in issuing curfew exemption permits.
Moreover, the King was briefed, during the meeting, on progress in implementing measures and regulations to counter COVID-19.
Newsletter
Get top stories and blog posts emailed to you each day.