You are here
King reaffirms support for Jerusalemites, rejects any compromise over holy city
His Majesty meets with Jerusalem awqaf representatives, church leaders
By JT - Apr 28,2021 - Last updated at Apr 28,2021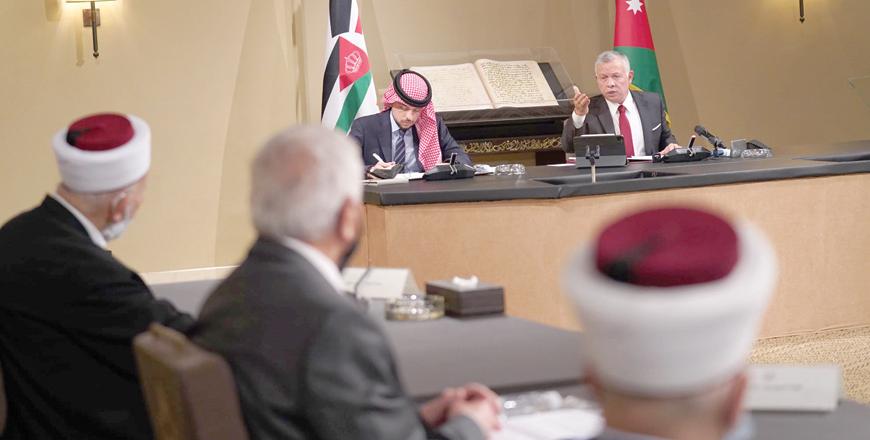 His Majesty King Abdullah speaks during a meeting with Jerusalem Islamic awqaf representatives and church leaders at Al Husseiniya Palace, attended by HRH Crown Prince Hussein, on Tuesday (Photo courtesy of Royal Court)
AMMAN — His Majesty King Abdullah on Tuesday reaffirmed support for the steadfastness of Jerusalemites and their efforts to preserve the Arab and Islamic identity of the holy city, underscoring commitment to the Hashemite legacy of sacrifice to preserve Jerusalem's holy sites.
Speaking at a meeting with Jerusalem Islamic awqaf representatives and church leaders at Al Husseiniya Palace, attended by HRH Crown Prince Hussein, King Abdullah stressed the historical and religious responsibility of safeguarding Islamic and Christian holy sites in Jerusalem, under the Hashemite Custodianship, rejecting any compromise over Jerusalem and its holy sites, according to a Royal Court statement.
For their part, the attendees expressed appreciation of His Majesty's positions in defence of Islamic and Christian holy sites in Jerusalem and his efforts to promote interfaith harmony, reiterating their commitment to the Hashemite Custodianship and voicing best wishes to Jordanians on the occasion of their state's centennial.
Jerusalem Awqaf Council President Abdul Azim Salhab conveyed the greetings of Jerusalemites to the King and lauded the Hashemite tradition of safeguarding holy sites, urging the Muslim nation to support His Majesty's efforts.
Jerusalem Awqaf Department Director Mohammad Azzam Khatib highlighted the importance of the Hashemite Custodianship, describing it as a red line for Muslims and Christians alike.
Khatib said the Awqaf Department, in line with Royal directives, is carrying out its duties towards worshippers at Al Aqsa Mosque despite all difficulties.
Jerusalem Grand Mufti Mohammad Hussein said Jordan is the supporter of Jerusalem, voicing the Palestinian people's appreciation of His Majesty's pivotal role as Custodian of Islamic and Christian holy sites in Jerusalem, and commending the King's constant efforts to bring international and Arab attention towards Jerusalem.
Patriarch Theophilos III, patriarch of the Holy City and all Jordan and Palestine, expressed appreciation for His Majesty's efforts to preserve the historical identity of Jerusalem and the Christian presence in it.
"Your Majesty inherits and guards the Covenant of Omar Ibn Al Khattab to our predecessor Patriarch Sophronios with its 1,400 years of guardianship of the rights of the churches," he said.
"This is the authentic example we have been living, under the Hashemite Custodianship in Jerusalem and in the Hashemite Kingdom of Jordan, and is of great encouragement and support to us, especially at a time when the Christian presence in the Holy Land, so vital to the historic and peaceful coexistence within our region, is facing new and serious challenges," he added.
Archbishop Pierbattista Pizzaballa, the Latin Patriarch of Jerusalem, said: "It is important to reiterate the historical and actual role that the Hashemite House plays for the city of Jerusalem, as a guarantor of the equality of all its citizens, of all faiths, who have in their holy places, places of prayer, of welcome, of peaceful encounter and not a battleground."
"The Latin Patriarchate of Jerusalem considers Your Majesty's strong voice as a call to achieve justice and peace," he added, noting that the King's openness has contributed to creating a community where Christians and Muslims are partners in citizenship and destiny.
Newsletter
Get top stories and blog posts emailed to you each day.