You are here
King visits military colleges
His Majesty says plan to uplift economy is being developed
By JT - Oct 14,2019 - Last updated at Oct 14,2019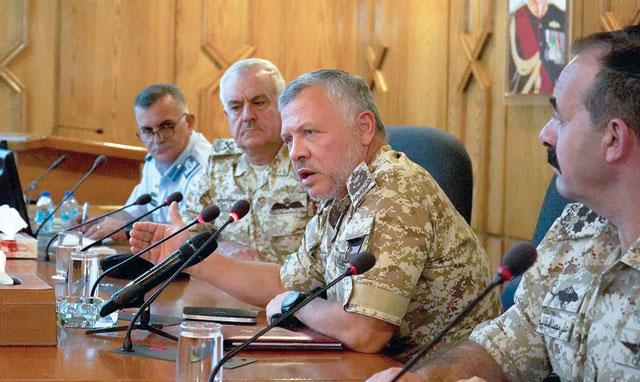 His Majesty King Abdullah, the Supreme Commander of the Jordan Armed Forces-Arab Army, visited the Royal Jordanian Command and Staff College and the Jordanian National Defence College on Monday (Photo courtesy of Royal Court)
AMMAN — His Majesty King Abdullah, the Supreme Commander of the Jordan Armed Forces-Arab Army, on Monday visited the Royal Jordanian Command and Staff College and the Jordanian National Defence College.
His Majesty was received by Chairman of the Joint Chiefs of Staff Maj. Gen. Yousef Huneiti and a number of senior officers, according to a Royal Court statement.
In remarks during a seminar on national security, King Abdullah underscored that the priority should be given to enhance the economic situation and create employment opportunities.
His Majesty noted that a plan to uplift the economy is being developed, emphasising the need to encourage local and foreign investments through providing incentives and calling for promoting public-private partnerships.
Discussing the Palestinian cause, the King highlighted the need to support the Palestinians in gaining their just and legitimate rights to establish their independent, sovereign state on the June 4, 1967 lines, with East Jerusalem as its capital, in line with the two-state solution, the statement said.
His Majesty stressed Jordan's commitment to its historical and religious role in safeguarding Islamic and Christian holy sites in Jerusalem, in line with the Hashemite Custodianship.
During the visit, the King was briefed on programmes offered by the two colleges as well as recent updates to their curricula.
His Majesty met with cadets at the two colleges, where students from Jordan and Arab, African, Asian and European countries are enrolled.
The King attended a tactical exercise and an educational session, and toured the facilities of the two colleges, expressing pride in the distinguished level of military education they offer.
The certificates granted by the two colleges are issued by Mutah University, with the Royal Jordanian Command and Staff College offering a bachelor's degree, and the Jordanian National Defence College offering two master's degrees and a high diploma programme.
Newsletter
Get top stories and blog posts emailed to you each day.