You are here
KOICA hosts 2023 World Friends Korea Volunteer Programme Partners Workshop
By JT - Jun 08,2023 - Last updated at Jun 08,2023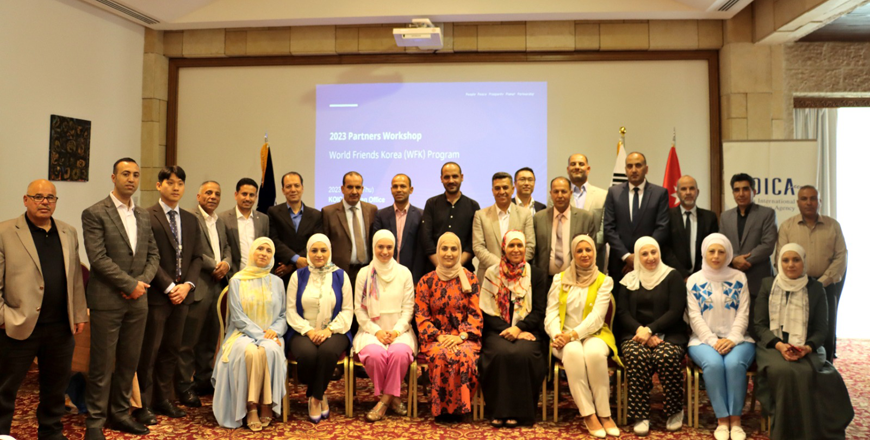 Participants pose for a photo during the 2023 World Friends Korea Volunteer Programme Partners Workshop on Thursday, hosted by the Korea International Cooperation Agency's Jordan Office (Photo courtesy of KOICA)
AMMAN — The Korea International Cooperation Agency's (KOICA) Jordan Office on Thursday organised the 2023 World Friends Korea Volunteer Programme Partners Workshop to enhance the programme's efficiency.
The event allowed the programme partners to familiarise themselves with the new procedures and mechanisms for receiving volunteers, and provided them with an opportunity to express their opinions and suggestions, according to a KOICA statement.
The workshop was commenced by KOICA Jordan Office Country Director Seo Dongsung, who expressed his gratitude to the programme's partners for their cooperation and contribution to its success over the past 18 years, and to the volunteers who came to Jordan to share their knowledge and experiences.
The workshop covered the introduction of the volunteers' request process and service regulation, while shedding light on the newly introduced Project Volunteers. In addition, the workshop included an explanation of KOICA's customer satisfaction policy and the Public-service Customer Satisfaction Index (PSCI) survey, which aims at measuring and improving the level of KOICA partners' satisfaction.
Highlighting the impact and dedication of KOICA volunteers, KOICA volunteer Cheon Hyobin shared his experiences during his service as a violin tutor at the Fine Art Centre affiliated with the Ministry of Culture.
The workshop concluded with a feedback session, where KOICA partners voiced their questions, concerns and opinions regarding KOICA and the World Friends Korea Volunteers Programme, where KOICA reaffirmed its "unwavering commitment" to support Jordan and expressed its determination to continuously improve Jordan's experience through dedicated efforts, the statement said.
On June 25, 2023, two new volunteers will arrive in Jordan to provide their voluntary services, complementing the three Korean volunteers currently serving in the fields of education and youth development, and continue their mission to strengthen the bilateral relationship between the two countries and contribute to a brighter future for all.
KOICA addresses inquiries and receives opinions through the World Friends Korea hotline at 06-592-6245
Newsletter
Get top stories and blog posts emailed to you each day.