You are here
Kuwait says university accreditation decision not aimed at Jordan alone
'Institutions from US, UK, France, Egypt, Gulf countries also affected'
By JT - Jul 11,2019 - Last updated at Jul 11,2019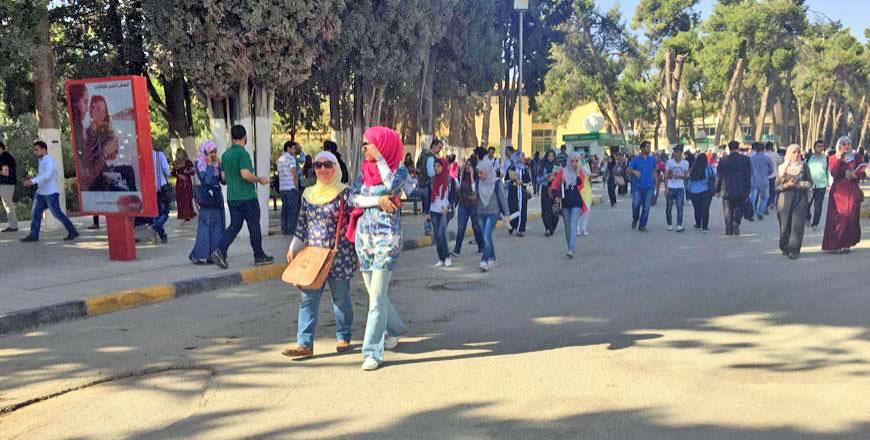 Students are seen walking at one of Jordan's universities in this recent photo (JT file photo)
AMMAN — Kuwait's recent decision to revoke the accreditation of certain universities has included not only the Kingdom but also other countries including the US, the UK, France, Egypt and some Arab Gulf countries, Kuwaiti Minister of Education and Higher Education Hamed Azmi said on Wednesday.
Kuwait recently announced it was invalidating the accreditation of 15 Jordanian universities.
Azmi made his remarks during a phone call with Minister of Education and Minister of Higher Education and Scientific Research Walid Maani to discuss the accreditation issue, according to the Jordan News Agency, Petra.
Under the new decision, the Arab Gulf country will recognise only seven Egyptian universities, Azmi noted, adding that 80 US universities have been removed from an earlier list of 200.
He explained that the decision aims to carefully select universities at which Kuwaiti students enroll on the basis of the global QS ranking system, whereby only the top 50 universities from the region were selected.
The Kuwaiti minister added that Princess Sumaya University for Technology was also kept on the list, given that it ranked very close to 50.
"Jordanian higher education, in all its aspects, has Kuwait's full respect," Azmi said, explaining that the decision is not meant to question the quality of any institutions.
Also on Sunday, President of the World Islamic Sciences and Education University Salman Bdour met with Kuwaiti Cultural Attaché in Jordan Bader Mutairi, during which the latter lauded the university's level of education and its reputation both globally and locally.
"The Kuwaiti higher education ministry's decision to direct its students towards five universities does not demerit other institutions," Mutairi said, explaining that the aim was to distribute students in accordance with the needs of the job market.
Newsletter
Get top stories and blog posts emailed to you each day.