You are here
Landmarks around Jordan renamed to honour pilot's sacrifice
By Hind Joucka - Feb 24,2015 - Last updated at Feb 24,2015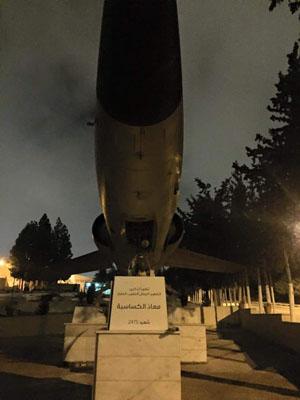 AMMAN — Dozens of landmarks and facilities have been renamed by officials and governorate representatives to carry the name of fallen air force pilot Muath Kasasbeh as way to honour him for defending his country and religion.
In the village of Ai in Karak, the birthplace of the Jordanian martyr, streets and landmarks have been renamed "Muath Kasasbeh".
The Jordan News Agency, Petra, reported earlier this month that Chairman of the Joint Chiefs of Staff Gen. Mashal Al Zaben, who is also the King's military adviser, issued orders that the name of the Military Consumer Corporation's Ai outlet in Karak, 140km south of Amman, be changed to Pilot Muath Kasasbeh Market.
Ai Secondary School for Boys, where the 27-year-old pilot studied, was similarly named after him.
"This will teach our students the importance of solidarity and instil a sense of belonging to one's country. Muath is a symbol that represents dedication and perseverance," an Education Ministry official told The Jordan Times this week.
The Finance Ministry on Monday named the main training hall in one of its training centres after Kasasbeh, to "immortalise his memory".
Other governorates have also renamed landmarks in an effort to immortalise the pilot, who was killed by the Daesh terror group in January.
A main street in Karak near Mutah University that leads to the village of Ai now carries his name.
Zarqa Mayor Fathi Khalaileh has also announced that Zarqa Municipality will name one of its well-known streets after Kasasbeh.
Khalaileh said in a phone interview that the martyr is worth more than a street or square in his name, "having sacrificed his life for Islam and our dear nation", adding that this was a gesture from the governorate and its people.
A new roundabout in Irbid on the intersection of Salt Street and Amman Street has also been labelled Muath Kasasbeh in the pilot's honour.
In Aqaba, a roundabout and a stadium is to be named after Kasasbeh, the Aqaba Special Economic Zone Authority's board of commissioners announced earlier this month.
A roundabout in Ruseifa is now known as Muath Kasasbeh.
Additionally, universities have renamed facilities and halls in honour of the pilot.
Al al Bayt University changed the name of its helicopter ramp, while Irbid National University renamed its military science hall and the German-Jordanian University labelled one of its library halls as Kasasbeh.
Moreover, the replica aeroplane near the University of Jordan's engineering faculty now bears Kasasbeh's name, in recognition of his efforts in protecting the country.
The Association of Banks in Jordan also recently launched a scholarship fund and named it after the pilot.
Related Articles
Feb 03,2016
AMMAN — Jordanians on Wednesday marked the first anniversary of the burning alive of Jordanian air force pilot Muath Kasasbeh by the Daesh t
Feb 07,2015
Mutah University on Saturday named one of its stadiums after Jordanian pilot Muath Kasasbeh, who was killed at the hands of the so-called Islamic State.
Feb 10,2015
Al al Bayt University on Tuesday named its helicopter ramp after Jordanian pilot Muath Kasasbeh.
Newsletter
Get top stories and blog posts emailed to you each day.