You are here
Launch of Economic Modernisation Vision step towards better future — Shboul
By JT - Jun 07,2022 - Last updated at Jun 07,2022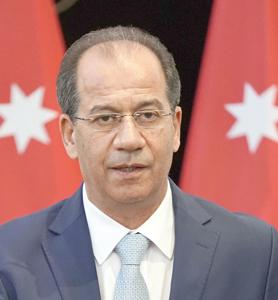 AMMAN — Minister of State for Media Affairs Faisal Shboul on Monday stressed that His Majesty King Abdullah's patronage to launch the Economic Modernisation Vision represents "the highest degree of national political commitment" to modernising the Jordanian state and moving towards a better future.
Shboul, who is also the government spokesperson, made the remarks during an interview with the Jordan Television during a live coverage of the Vision's launch at the Dead Sea, the Jordan News Agency, Petra, reported.
The minister noted that Jordan will enter its second centennial through three parallel paths; the first, the political modernisation accomplished through endorsing the elections and political parties laws and the associated constitutional amendments. The efforts towards political modernisation also include the changes to the make-up of the legislature during the forthcoming electoral sessions so that two-thirds of the Lower House is made up of political parties.
The second path is concerned with economic modernisation, which began through workshops held at the Royal Hashemite Court in partnership with the government and with the participation of deputies, leaders, the private sector, civil society organisations, experts and women and youth representatives from various governorates.
The entities that participated in the economic workshop reviewed the Kingdom's potential, which it could be built upon, developed and modernised, he said, referring to the industrial partnership initiative between Jordan, the United Arab Emirates and Egypt, which focuses on Jordanian assets and promoting investment among the three countries.
Shboul said that the third path is modernising the public sector, where the government is scheduled to announce the outcomes of the Public Sector Modernisation Committee later this month.
The minister also stressed that the three paths are "harmonious" and aim to modernise the Kingdom and develop Jordan's transition towards the future.
On the government's role in the Economic Modernisation Vision, he stressed that this vision is long-term and cross-governmental and will be carried out on a schedule until 2033.
He said that the government "is committed" to implementing the first phase of the vision between 2022 and 2025, the second stage between 2025 and 2029 and the third stage until 2033.
The minister noted that while Jordan has been recovering from the repercussions of the pandemic, it was affected by the ramifications of the Russian-Ukrainian war, which has caused pressures on major markets, the supply of goods and global freight prices.
Newsletter
Get top stories and blog posts emailed to you each day.