You are here
Lawmakers approve articles in judicial implementation bill
By Jassar Al Tahat - Jul 10,2017 - Last updated at Jul 10,2017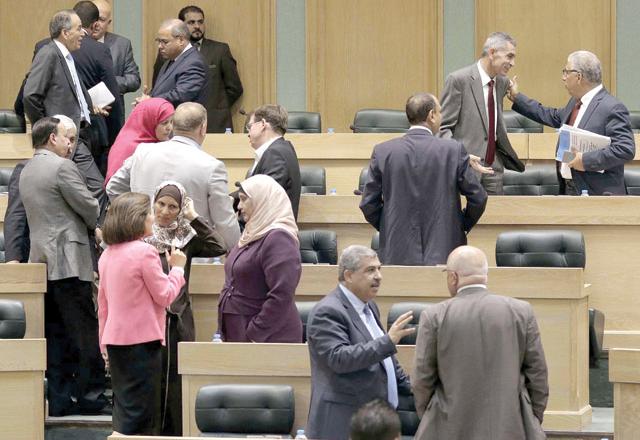 Lawmakers are seen during a session on Sunday (Photo by Osama Aqarbeh)
AMMAN — Lawmakers approved a number of articles in the judicial implementation bill during a legislative session on Sunday, with one MP presenting an "unconstitutional" query to the government.
MPs presented their arguments on the recommendations of the House Legal Committee, which argued that approval of the bill would "set standards and expedite legal proceedings when dealing with debt-related cases".
The amending reasons for the bill deal with procedures for the implementation and updating of verdicts in debt cases.
Among the amendments was one to grant judges the power to freeze the movable and immovable assets of a defendant in a debt case, to prevent attempts to hide money or otherwise obstruct court-sanctioned procedures.
Deputy Nabil Ghishan (Madaba) supported the Legal Committee's recommendations , describing them as "mostly beneficial and well thought out".
"Here we clearly see that amendments made to the bill came to facilitate and speed up legal proceedings and reduce procrastination and stalling," Ghishan said.
Representing Maan, MP Mohammad Falahat claimed that there is a "dangerous trend in the judicial system", alleging that there are witnesses who are paid to give false testimony in court.
Urging the prime minister to take action through law enforcement agencies, Falahat said: "I know that this query during this session does not fall in line with the constitution, but it is very important to address. There is a group of people who have lost all regard for morals and religion, and they tend to falsely testify in exchange for money."
MP Saleh Armouti (Amman, 3rd District) demanded that the prime minister clarify and present to the Lower House the ceasefire agreement for Syria supported by the US, Russia and Jordan.
The head of the House Legal Committee, MP Mustafa Khasawneh, stated that the committee recommendations are intended to "re-regulate the verdicts regarding the denial of debt, as we know that there are contrasting judicial approaches".
Khasawneh also told the Jordan News Agency, Petra, on Sunday that the state cases management bill was discussed on Sunday during a committee meeting attended by Minister of Justice Awad Mashagbeh and other stakeholders.
"This bill presents a new legislative policy and contributes to the referral of matters to specialised personnel," Petra reported.
Lower House Speaker Atef Tarawneh adjourned the session, with two legislative sessions set for Tuesday.
Related Articles
Jul 11,2017
AMMAN — The Lower House on Tuesday approved the amended Civil Procedural Law, the amended Regular Courts Law and the judicial implementation
Apr 18,2017
AMMAN — The Cabinet on Monday approved 14 draft laws and by-laws to improve the performance of the judiciary.The new pieces of legislation w
Jan 21,2014
The Lower House on Tuesday decided to seek the opinion of its Legal Committee over the Senate's changes to the State Security Court (SSC) Law's draft amendments.
Newsletter
Get top stories and blog posts emailed to you each day.