You are here
Leading women in politics, media and economy share successes, struggles
Queen attends panel discussion held at Women on the Front Lines conference
By Laila Azzeh - Dec 07,2016 - Last updated at Dec 07,2016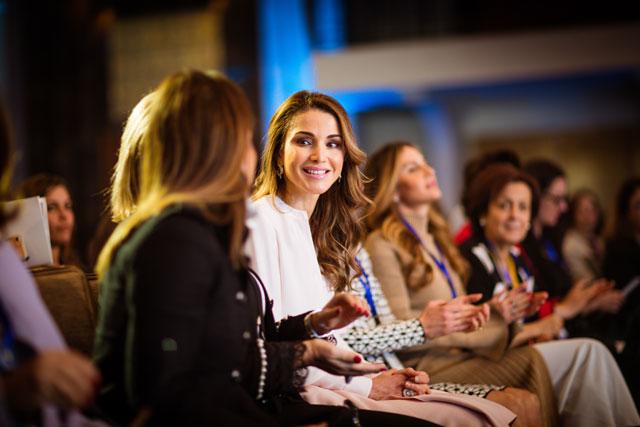 Her Majesty Queen Rania attends a panel discussion at the Women on the Front Lines conference in Amman on Wednesday (Photo courtesy of Royal Court)
AMMAN — Known for their excellence, talent and commitment to their professions, women from across the Arab region who have made a difference in their respective fields shared their stories and struggles on Wednesday.
Having at least one thing in common — their ability to defy gender stereotypes that often cripples women from unleashing their full potential — participants at the Women on the Front Lines conference agreed on the need for women to become more determined to have wider roles in today's world.
The event, held by the May Chidiac Foundation (MCF) under the patronage of Her Majesty Queen Rania, featured influential women in politics, economy, security and the media.
The Queen attended a panel discussion, titled "Asking the Hard Questions", which included prominent anchors who shared their experiences and the challenges they face while conducting interviews.
Expressing her distress over the situation of Arab women today, Chidiac noted that shedding light on success stories crafted by women in the region offers a "glimpse of hope".
US Ambassador to Jordan Alice G. Wells highlighted the specific situation of Jordanian women, saying that their "talent pool is enormous".
"Women are 52 per cent of university attendees, closer to 60 per cent at the University of Jordan, and regularly outperform their male counterparts in school. Literacy rates for women in Jordan are at 95 per cent — among the highest in the Middle East," she said.
The diplomat added that as "Jordan faces a critical moment in its economic outlook. With regional instability damaging trade and tourism, the country needs solutions to bolster growth, increase income and generate jobs".
"Expanding women's economic participation not only advances prosperity but also promotes family stability and the well-being of future generations," she said.
Wednesday's event included testimonials by mothers of extremists who lost their children to radical ideologies, and it featured the screening of a documentary showcasing an investigative TV report by Lana Al Qusous on Muath Kasasbeh, the Royal Jordanian Air Force pilot who was kidnapped and killed by Daesh.
Established in 2009 by Lebanese journalist Chidiac, who survived an assassination attempt in Lebanon in 2005, the MCF is a non-profit organisation dedicated to training, research and education on media, democracy, and social welfare.
The foundation also runs an affiliated non-profit media institute that aims to foster the values of freedom of expression, human rights and democracy in media production industries by providing young professionals with state-of-the-art technical facilities and training programmes.
up
24 users have voted, including you.
Related Articles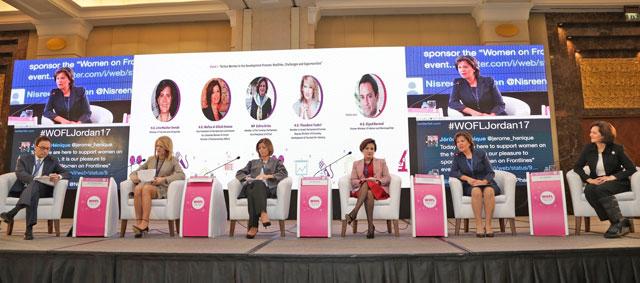 Dec 08,2017
AMMAN — Jordan believes in the importance of sustainable development and its role in empowering women and ensuring equal opportunities, Prim
Jan 10,2017
AMMAN — The Military Credit Fund (MCF) has embarked on amending its by-law in order to allow access to its funding services for the families
Mar 08,2017
AMMAN — HRH Princess Ghida Talal, chairperson of the King Hussein Cancer Foundation board of trustees, on Wednesday participated in the Wome
Newsletter
Get top stories and blog posts emailed to you each day.