You are here
Legislature, gov't say diplomatic efforts ongoing to end occupation authorities' attacks on Jerusalem
By JT - May 09,2021 - Last updated at May 09,2021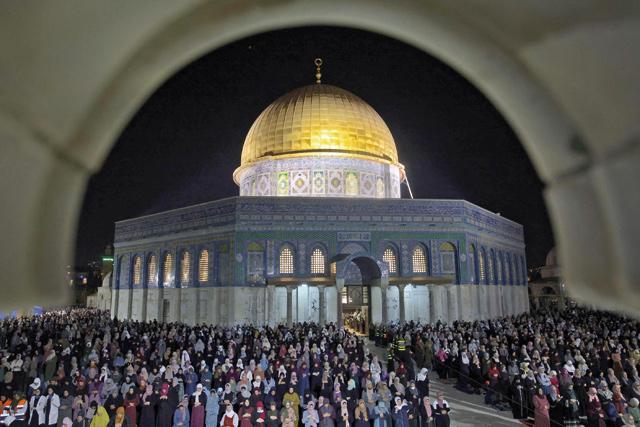 Palestinian devotees pray on Laylat Al Qadr (Night of Destiny) outside the Dome of the Rock in Jerusalem's Al Aqsa Mosque compound during the Muslim holy month of Ramadan on Saturday (AFP photo)
AMMAN — Lower House Speaker Abdulmonem Oddat said on Sunday that communications were ongoing with Arab and Islamic legislatures to form a unified position to support the resilience of Jerusalemites against "racist practices" of the Israeli occupation government and extremist Jews.
Speaking to the government-owned Al Mamlakah TV, Oddat said that attacks by Israeli forces, settlers and extremist Jewish organisations against residents of Jerusalem's Sheikh Jarrah neighbourhood with the aim of forcing them evict their homes are "just clear proof for Israel's racism".
He expressed hope for a multilateral Arab position at the level of parliaments to expose these practices and form a decisive international stance against these violations that defy all international agreements.
Also on Sunday, the Foreign Ministry stressed that the Kingdom is moving ahead with its efforts at all levels to stop Israeli violations at Al Aqsa Mosque/Al Haram Al Sharif and attacks against Jerusalemites in the occupied East Jerusalem.
Foreign Ministry Spokesperson Deifallah Fayez said that Jordan, based on the historical Hashemite custodianship over Islamic and Christian holy sites in the city, will continue devoting potential to protect holy sites and their Islamic and Christian Arab identity, as well as protecting the historical and legal status quo.
Fayez said that the ministry was in daily contact with Israeli occupation authorities to stop their violations and attacks against Al Aqsa Mosque and worshippers, noting that the ministry is also contacting Palestinians to coordinate stances to compel Israel to stop its violations, according to a ministry statement.
As for Sheikh Jarrah neighbourhood, the spokesperson said that the ministry, as part of efforts to help residents preserve their legal possessions in the area, had sent a formal notice to Israeli foreign ministry, expressing the Kingdom's rejection of Israeli authorities' attempt to evict residents.
The Kingdom and Palestine have jointly requested the Arab League to hold an extraordinary session at the ministerial level on Tuesday to discuss the developments in Palestine, the statement said.
Also on Sunday, Palestinian Foreign Minister Riyad Al Maliki called on Palestinian ambassadors to coordinate with their Jordanian counterparts in contacting foreign ministries, decision making centres and parliaments of hosting countries to explain the developments in the occupied Jerusalem and the continuous Israeli attacks.
In a statement cited by Petra, Maliki said that this joint action of ambassadors is part of joint efforts to mobilise the biggest international pressure possible on the occupation state and make it stop its aggression and systematic violation of the international law and the Human Rights Law against Palestinians in the occupied Jerusalem.
up
24 users have voted, including you.
Newsletter
Get top stories and blog posts emailed to you each day.