You are here
'Livestock available in local market exceeds Eid Al Adha demand'
By Hana Namrouqa - Aug 31,2014 - Last updated at Aug 31,2014
AMMAN — The ban on sheep imports from Romania will neither raise livestock prices in the local market nor create a shortage ahead of Eid Al Adha, a government official said on Sunday.
Prices of sheep will not be affected by the recent decision to ban livestock imports from Romania as the current amounts of live sheep and cattle in the local market exceed the country's demands for Eid Al Adha, Agriculture Ministry Spokesperson Nimer Haddadin told The Jordan Times.
In Eid Al Adha, the Muslim feast marking the end of the pilgrimage season, Muslims of sufficient means are required to sacrifice livestock in remembrance of Prophet Ibrahim's willingness to sacrifice his son Ismail to God.
This year, Eid Al Adha is expected to fall during the first week of October.
"The demand for livestock ahead of and during Eid Al Adha ranges at around 300,000 heads annually. The available number of livestock in the market exceeds the demand; therefore, prices will not increase," Haddadin noted.
There are around 200,000 heads of local livestock in the market, 50,000 heads of Australian sheep, 250,000 heads of Romanian sheep that were imported into the country before the ban, as well as a large number of local and imported calves and camels.
The Agriculture Ministry on Saturday announced a ban on the import of cattle and sheep from Romania after cases of bluetongue disease were reported.
The precautionary measure seeks to protect the country's animals from the infectious disease, according to the ministry, which said that no bluetongue disease cases have ever been registered in the Kingdom.
The import ban will remain in place until the country is declared free of the disease, the ministry said.
Bluetongue is a non-contagious, viral disease affecting domestic and wild ruminants (primarily sheep and including cattle, goats, buffalo, antelope, deer, elk and camels) that is transmitted by insects, particularly biting midges of the Culicoides species, according to the OIE website.
There is no public health risk associated with bluetongue disease, which is listed under the OIE Terrestrial Animal Health Code, the organisation said on its website.
Jordan imports cattle and sheep mainly from Australia, followed by Romania and then Sudan.
Related Articles
Apr 18,2015
The Ministry of Agriculture on Saturday lifted an eight-month ban on the import of livestock from Romania, where bluetongue disease was reported, according to officials.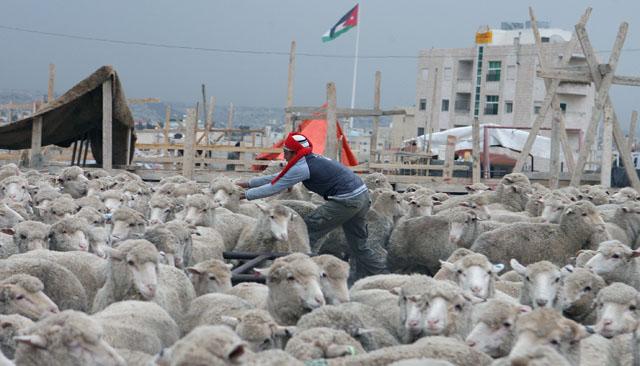 Sep 14,2014
The Ministry of Agriculture on Sunday warned the public against slaughtering livestock in the streets or private backyards during Eid Al Adha to prevent the spread of disease-transmitting insects.
Aug 30,2014
The Agriculture Ministry on Saturday announced a ban on the import of cattle and sheep from Romania, where cases of bluetongue disease were reported.
Newsletter
Get top stories and blog posts emailed to you each day.