You are here
Local creators expose and share talents at DeZain Space
By Camille Dupire - May 15,2018 - Last updated at May 15,2018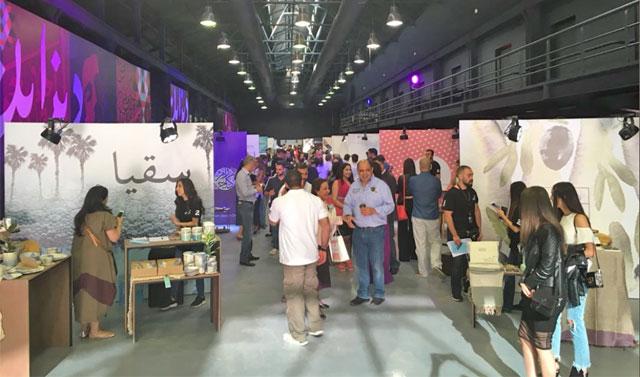 The DeZain Space displays creations of 37 local designers at Ras Al Ain Hangar recently (Photo by Camille Dupire)
AMMAN — Building on its emerging status as a regional hub for designers, Amman recently hosted a creative event aimed at helping local designers grow their brand and gain wider visibility on the regional and international market.
"We organised DeZain Space with the aim of supporting local creators and giving them a platform to network, gain insights into the sector, and exchange with other designers," Creative Director of the event Shamekh Bluwi told The Jordan Times at Ras Al Ain Hangar, where the three day event took place.
"Jordan is bustling with innovative creators who have amazing ideas but still need a push to take their brand to the next level," Bluwi, a fashion designer himself, said, adding that "this space aims to help them rise up to the standards of the international market so they can expand and gain more recognition nationally and globally".
Thirty-seven local designers convened to the Hangar, where they displayed their creations in a "creative marketplace" and exchanged with fellow designers and visitors.
"Most of the Jordanian designers are used to work by piece, and are not always acquainted with the global trend of seasonal collections. Through various workshops, talks and fashion shows, we gave them an opportunity to learn more about the global marketplace and the best practices in the field," Bluwi explained.
Supported by Zain Innovation Campus and Zain, the Dezain Space saw the participation of various Jordanian personalities in the field of design, social media, fitness and social entrepreneurship.
"Nowadays, it is essential to support the entrepreneurial ecosystem in various areas, especially in specialised sectors like design and innovation," said Zain CEO Ahmad Hanandeh during the launching ceremony.
Emerging designers got to witness presentations by successful local businessmen like Tamer Al Masri, co-founder and CEO of Jobedu, a Jordanian streetwear brand inspired by Arab pop culture which recently signed contracts with global corporations Disney and Warner Bros.
"In the first of its kind co-branding collaboration in the region, Jobedu recently partnered with the two entertainment giants to produce merchandise featuring some of the companies most iconic characters including DC comics superheroes and Looney Tunes, Scooby-Doo, Tom and Jerry," Tamer Al Masri, told his audience.
Fashion personalities, social influencers and local businesspeople such as Zayna Hamarneh, Sima Najjar, Maher Kaddoura and Rebecca Odeh acquainted emerging entrepreneurs on a variety of topics ranging from the power of pop-up stores to online selling and branding.
"The vision behind this great event was to help and promote Jordanian designers and creators in the national and regional markets," said Najjar during a panel on her journey as a successful business owner.
Local incubators like Oasis500 also provided presentations on ways to secure investments for creative start-ups and to build sustainable business models.
"The 37 designers were mentored and underwent an intensive bootcamp about business and how to take their brand to the next level. What we saw here is a complete transformation for some of them," she told The Jordan Times after the event.
Among the promising entrepreneurs present was Aseel Qawasmeh, founder of Aseel and a fashion designer herself. She created a clothes collection dedicated to the refugee crisis, where she highlighted the plea of Syrian and Palestinian refugees in original fashion designs.
Her most striking piece, a t-shirt displaying a barcode number belonging to a Syrian refugee named Hana, has drawn the attention of many visitors of the DeZain marketplace. "I was inspired by a 40-year-old woman, Hana, who sought refuge in Jordan along with her children after the Syrian crisis started. When any refugee arrives to the Kingdom's refugee camps, they are given an identification number and a UN certificate defining their new status as refugees," she told The Jordan Times next to her stall, adding "I wanted to make this difficult moment visible to all, by exposing it on the front of a plain white t-shirt, as a mark of solidarity with all the migrants from the regional crises."
For her part, young architect and interior designer Ayah Bataineh displayed her homeware products designed in line with the theme of Ramadan proposed by the organisers. "I worked on an entire line inspired by the upcoming holy month, a really important time for Jordanians. All this homeware is representative of the feelings and sentiments of Muslims as they are fasting during the day [represented by the drought and scarcity design] and the moment they quench their thirst as they break their fast at iftar [portrayed by the waves and water-like figures]," Bataineh explained in front of her stand.
Out of the 37 designers present, 13 have been supported by Zain, according to Bluwi, who said the company helped them develop their brand, establish their start-ups and reach out to local markets.
"It is really exciting to see such a variety of actors in the sector, going from people with over ten years of experience in the field, exhibiting right next to debuting creators. This allows for a truly enriching experience for both parties, as well as the visitors," he rejoiced.
Related Articles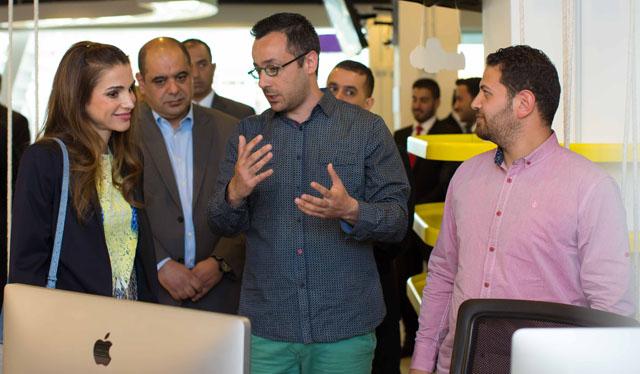 Apr 26,2015
Her Majesty Queen Rania on Sunday visited the Zain Innovation Campus (ZINC) as part of her interest in and continuous support for Jordanian entrepreneurs.
Aug 30,2016
AMMAN – Her Majesty Queen Rania on Tuesday inaugurated the first iteration of Amman Design Week (ADW), in an opening reception at the Ras Al
Sep 08,2016
AMMAN — Today is the last chance for the public to take part in the Amman Design Week (ADW), the organisers said in a statement released on
Newsletter
Get top stories and blog posts emailed to you each day.