You are here
Lower House endorses anti-money laundering bill
By Raed Omari - Jan 18,2015 - Last updated at Jan 18,2015
AMMAN — The Lower House on Sunday passed the draft anti-money laundering and counter-terrorism financing law, imposing a five-year prison term with hard labour on those laundering criminal cash flows as well as money generated by crime.
As worded in the government's version of the law and endorsed by MPs, a prison term of no less than a year and no more than three years will be imposed on persons laundering money generated from a misdemeanour.
The House also endorsed another provision banning the dissemination of information directly or indirectly obtained by the president and members of the projected Anti-Money Laundering and Counter-Terrorism Financing Unit, to be established under the law, about suspects involved in such crimes.
The provision is also applicable to other public employees working in relevant agencies, according to the bill endorsed by MPs.
During last week's session, a majority of MPs approved an amendment to the 2007 law proposed by Deputy Rula Hroub (Stronger Jordan list), banning the gathering and securing of funds, whether directly or indirectly, and through legal or illegal sources, to transfer them to organisations or persons classified as terrorists in the Kingdom.
The government introduced the new amendments to the law to be in line with international standards concerning anti-money laundering and terrorism-financing activities, and to enable Jordan to join relevant international organisations and conventions.
Some MPs walked away from Sunday's session and sat in the gallery, causing a lack of quorum for some time, in protest against what they described as the government's "disregard" for their demand to review the new electricity pricing mechanism.
Related Articles
Jan 13,2015
MPs on Tuesday renamed the draft anti-money laundering law as the draft anti-money laundering and counter terrorism financing law, citing the inseparability of the bill from anti-terror efforts.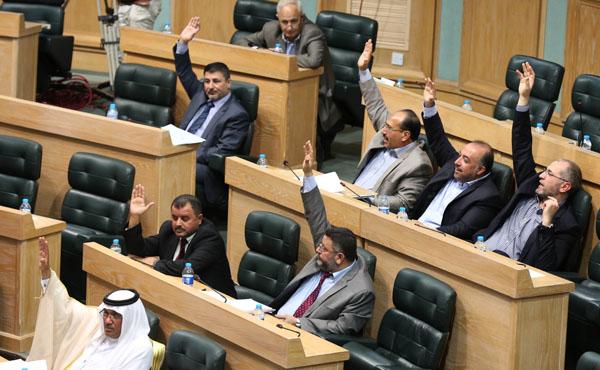 Mar 29,2015
The Lower House on Sunday expressed support for the anti-Houthi alliance led by Saudi Arabia in operation "Storm of Resolve" in Yemen, launched after the Houthi coup leaders "closed all doors to dialogue".
Apr 18,2015
A Royal Decree was issued on Saturday proroguing Parliament's ordinary session as of May 2, the Jordan News Agency, Petra, reported.
Newsletter
Get top stories and blog posts emailed to you each day.