You are here
Madad project comes to aid of Deir Alla woman in forging career path
Apr 12,2021 - Last updated at Apr 12,2021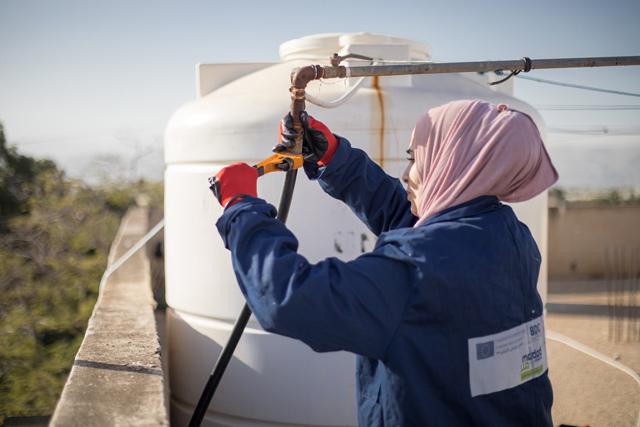 Nisreen Ramadan is seen at work (Photo courtesy of BDC)
AMMAN — Nisreen Ramadan, 37, a mother of five from the Jordan Valley's Deir Alla region, was adamant on continuing her education to secure a decent life for her family despite household obligations.
She registered at a university and continued studies for a year before she quit to take care of her school-aged children and give them the opportunity to gain better education than the one she received.
To help provide for her children, she was determined to find work.
"I joined various training courses and I did not stop looking for a job opportunity even during training," she said.
She started with a simple course specialising in data entry. However, "maybe because of customs and traditions controlling our society, it was hard for businesses to hire women," she said.
The situation continued this way until a project by EU Regional Trust Fund in Response to the Syrian Crisis, the Madad fund, and managed by the Business Development Centre (BDC), started their work in Deir Alla.
The project is part of "Enhancing access to protection, participation and services for refugee women and host communities in Jordan" programme and is financed by the European Union through the European Union Regional Trust Fund for Responding to the Syrian Crisis, the Madad Fund, and implemented by the coalition led by the Euro-Mediterranean Feminist Initiative (EFI).
"After months of searching and waiting, I heard about the Madad project which aims to enhance women's abilities through training and employment as it works on providing job opportunities for women," she said.
"At the beginning I did not believe this could happen in Deir Alla," she said.
Nisreen said that through the training, she acquired skills in plumbing and eventually, she started seeking work together with a Syrian woman.
Nisreen is confident that through the new skill she attained through the project she could become an entrepreneurial figure and challenge societal stereotypes.
"I liked the term 'entrepreneurial personality' and would love to be one. I can say now that I have set a new goal for my life. I will become an entrepreneurial figure," she said.
"Probably I will be the first woman in Deir Alla to challenge negative customs and traditions and open a shop specialising in home maintenance," she added.
The Business Development Centre contributed this article to The Jordan Times
Newsletter
Get top stories and blog posts emailed to you each day.