You are here
Ministry of Health confirms no coronavirus cases as Jordanian, Arab students arrive from Wuhan
By Maram Kayed - Feb 01,2020 - Last updated at Feb 01,2020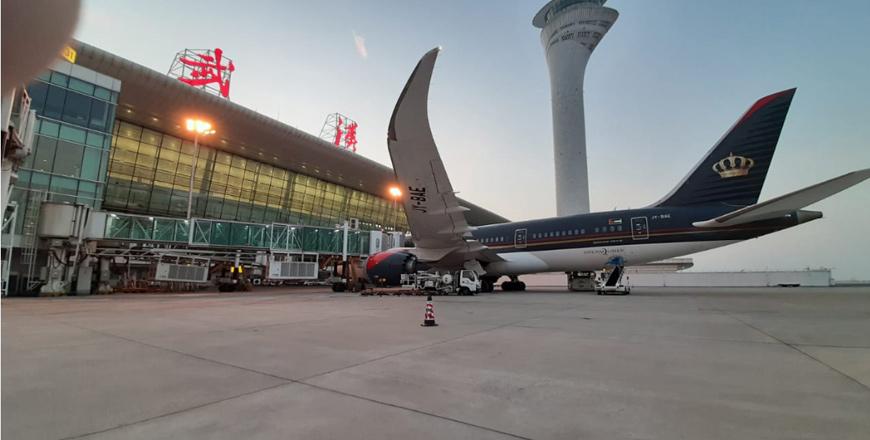 A plane gets ready for its flight from Wuhan, China, to the Kingdom on Friday, carrying students of Jordanian, Palestinian and various Arab nationalities on board (Petra photo)
AMMAN — A plane from Wuhan, epicentre of the newly discovered coronavirus, landed in the Kingdom on Saturday morning carrying students of Jordanian, Palestinian and various Arab nationalities on board, while 10 patients initially suspected of carrying the virus were released from Al Bashir Hospital on Friday.
Secretary General of the Ministry of Health Hikmat Abul Foul said during a press conference before the plane's arrival that 71 passengers were aboard, including 54 Jordanians, seven Palestinians and others of various Arab nationalities.
Upon the plane's arrival, all passengers were transferred to Al Bashir Hospital for a precautionary examination.
"Two Jordanian doctors were dispatched to China and all of the students received medical examinations prior to boarding the plane to Amman, with tests confirming that there were no infections or even symptoms of the disease," he added.
Minister of Environment Saleh Kharabsheh and Minister of Transport Khalid Saif were present to receive the students at dawn on Saturday, after the plane's takeoff from King Hussein International Airport in Aqaba was delayed for five days due to security measures.
Aboard was one Syrian student, one Bahraini student, three students from Tunisia and three students from Oman.
"We welcome our sons and daughters of all Arab nationalities to their second home, Jordan," said Minister of Transport Khalid Saif.
Later on Saturday, the Ministry of Health confirmed in a statement that no cases of the virus had been detected among the students or anyone else in the Kingdom thus far.
Health Ministry Assistant Secretary General and Spokesperson Adnan Ishaq said in a statement that on Friday morning, 10 people who were being monitored in isolation rooms in Al Bashir Hospital's Epidemiology Department had been discharged because "they were confirmed to have had no contact with the disease".
He stressed that those admitted to the quarantine rooms did not carry the virus, but were admitted only for preventive and cautionary purposes.
In a statement, Abul Foul said that the ministry has requested to purchase specialised detection chips from China to help speed the identification of the virus, expecting them to arrive in Jordan on Sunday.
Newsletter
Get top stories and blog posts emailed to you each day.