You are here
Most media practice censorship in Jordan — CDFJ
By Mohammad Ghazal - May 10,2018 - Last updated at May 10,2018
AMMAN — Around 94.1 per cent of media practitioners in Jordan exercise self-censorship while only 3.9 per cent label media freedom as "excellent", according to the Media Freedom Status in 2017 report by the Centre for Defending Freedom of Journalists (CDFJ).
Launched on Wednesday, the report indicated that a total of 17 violations were committed against media practitioners in Jordan in 2017 during which no physical assaults were reported by authorities against journalists.
"The rate of self-censorship among journalists in 2017 is the highest since 2014 and this is mainly due to journalists' fear of some legislation that may result in their imprisonment as well as the declining financial conditions of media outlets," Nidal Mansour, president of the CDFJ, told The Jordan Times, adding "journalists do not want trouble with authorities and do not want to lose their jobs…they just want to make ends meet and avoid conflicts, which automatically make them resort to self-censorship."
He noted that no "serious" violations were committed against journalists in 2017, adding that taking some measures to remove red tape at public institutions and providing information to journalists would help improve Jordan's positions in media freedoms.
Omar Maharmeh, local news managing editor at Al Ghad, said: "Journalists in Jordan are afraid of being referred to court or detained because of some legislation that restrict their freedoms."
"Last year, some journalists were detained and some others were fined large amounts of money and this is a concern for journalists that is why they resort to self-censorship," Maharmeh told The Jordan Times.
"Journalists avoid writing about sensitive issues as they also fear criticism from the society," he said.
Meanwhile, journalists who labelled media freedoms as "excellent" rose to 3.9 per cent in 2017 compared to 1.5 per cent the previous year.
According to the report, 82 per cent of media practitioners support creating an independent complaints bureau to handle cases of complaints by society members against media outlets.
The report indicated that 62 per cent of legislation in Jordan restrict media freedoms, while 85.9 per cent believe that media outlets helped increase hate speech and marginalisation of others.
With regard to the main channels used for spreading hate speech, the report indicated that Facebook topped the list, followed by Twitter, news websites, YouTube and Snapchat.
The CDFJ report showed that 71.8 per cent of media practitioners believe that the right to access information is guaranteed while 78.4 per cent say the government responds to their questions.
According to the report, 49.4 per cent of journalists said they heard of some journalists being subjected to containment attempts.
"The report indicates that Jordan's ranking can improve… last year there were fewer confrontations between journalists and authorities and banning journalists from covering some events topped the list of non-serious violations," Mansour said.
The report called for a media strategy to enhance the performance of media outlets and media practitioners.
It also called for forming a committee of experts to study amending media-related legislation. It also called for implementing programmes to raise awareness about the use of social media and media literacy.
Jordan ranked 132th out of 180 countries in the 2018 World Press Freedom Index released last month, advancing six positions compared to its ranking in 2017.
According to the Reporters Without Borders' website, the Kingdom scored 41.71 on a global level in 2018, improving from the previous year, when it scored 43.24.
Related Articles
Feb 21,2017
AMMAN — A network of journalists advocating human rights was launched on Monday in a bid to defend human rights issues, including those rela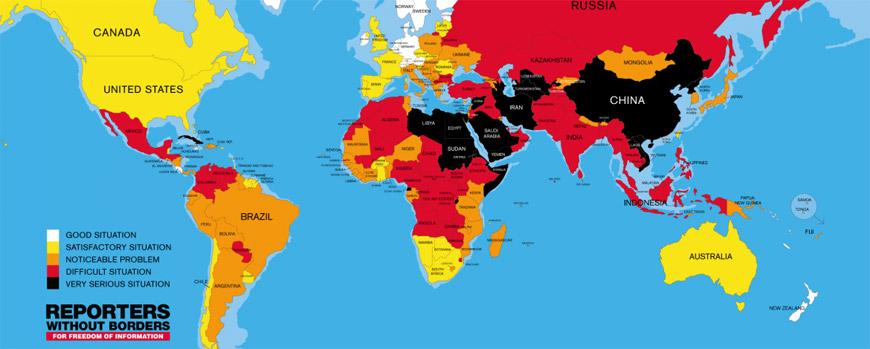 Apr 29,2017
AMMAN — Jordan's press freedom ranking dropped by three places in 2016 compared to 2015, according to the World Press Freedom IndexThe index
Apr 25,2017
AMMAN — Over 80 per cent of media professionals in Jordan described press freedoms in 2016 as "low, acceptable or medium", according to a re
Newsletter
Get top stories and blog posts emailed to you each day.