You are here
Nationwide calls urge end, solution to teachers' strike
Work stoppage enters third week
By JT - Sep 21,2019 - Last updated at Sep 21,2019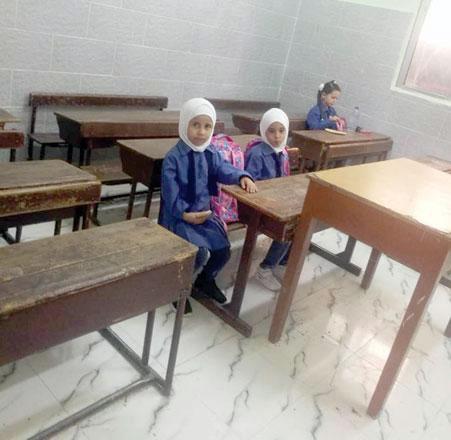 Students are seen in a classroom at a public school, which was almost deserted during teachers' open-ended strike, which is entering its third week (Petra photo)
AMMAN — Pressure piled up on teachers over the weekend with calls from the public urging them to end their strike.
The Jordan Teachers' Association (JTA) announced an open-ended strike at the beginning of the scholastic year, demanding a 50-per cent pay raise that the association says was promised by the government five years ago, but was never implemented.
Talks resumed on Wednesday between teachers and the government about ending the strike after a week of deadlock. Although both sides expressed "positive indications", the JTA announced that the strike will continue until a final agreement on their demands is reached.
Former Aqaba education director Khalid Thneibat told the Jordan News Agency, Petra, that the government and the JTA have to put public interest above all else and serve the students, while highlighting the importance of improving the living conditions of teachers.
In Tafileh, located some 180km southwest of Amman, citizens, community leaders and retired educationalists urged the JTA to "consider reasonably" their demands.
In Ajloun, some 70km northwest of the capital, parliamentarians, academicians, popular figures and parents called on teachers to dialogue with the government and end the strike soon.
In Zarqa, some 22km northeast of Amman, educators and school principals pushed for resuming classes.
They also encouraged an agreement between the JTA and the government to guarantee students' right to education, Petra added.
Prolonging the strike and failing to reach a solution will harm the students' educational process, residents of Balqa, some 35km northwest of Amman, said.
Parents in Mafraq, 80km northeast of Amman, stressed that their children's right to education is essential and a solution should be reached to satisfy all stakeholders.
Educators and parents in Maan, Madaba and Jerash also called for talks on reaching an end to the strike, Petra reported.
Several meetings have been held with the government, but both sides have failed to reach an agreement. All teachers working in the Kingdom's public schools are taking a part in the strike.
In a gesture of goodwill, Prime Minister Omar Razzaz made an appearance at the meeting between the JTA council's representatives and the ministerial team tasked with monitoring the strike. Razzaz attended the talks after the JTA refused to meet with the ministerial team.
Newsletter
Get top stories and blog posts emailed to you each day.