You are here
NEPCO signs gas supply agreements
By JT - Sep 17,2019 - Last updated at Sep 17,2019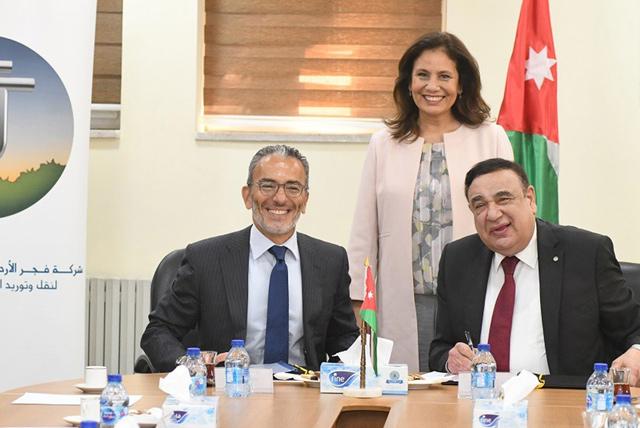 Energy Minister Hala Zawati and representatives of the National Electric Power Company and the Jordanian-Egyptian FAJR for Natural Gas Transmission and Supply Company are seen during a signing ceremony on Tuesday (Petra photo)
AMMAN — The National Electric Power Company (NEPCO) and the Jordanian-Egyptian FAJR for Natural Gas Transmission and Supply Company on Tuesday signed two agreements with two companies to provide them with natural gas.
The first agreement stipulates providing the Jordan Phosphate Mines Company (JPMC) with a daily supply of four million cubic feet of natural gas, while the other deal is an amendment to a gas provision agreement with the Nuqul Group, according to a statement by the Ministry of Energy.
Energy Minister Hala Zawati said that the ministry effortlessly work to reduce the costs of energy bills through encouraging local industries to shift to natural gas, as part of the government's endeavours to help these industries reduce operational costs and increase their competitiveness in the local and international markets.
Zawati said that using natural gas will contribute to lowering the energy costs in factories by 25 to 55 per cent, depending on the type of the fuel replaced with the natural gas.
With the aim of encouraging national industries to shift to natural gas, the government has granted exemptions mentioned in the Investment Law on devices and equipment used to connect factories with natural gas pipelines, the minister noted.
She also added that the special tax imposed on natural gas for industrial usages has been reduced from 16 to 7 per cent, and companies that transfer to the use of natural gas have given exemptions from the special tax for three years.
NEPCO Director General Amjad Rawashdeh said that the company is keen on guaranteeing the security of power provision to generate electricity, including supplying local industries with the natural gas necessary for their operational needs.
JPMC Chairman Mohammad Thneibat highlighted the importance of the agreement in reducing the annual energy costs at the industrial complex in Aqaba from JD10 million to JD8 million.
FAJR Director Fuad Rashad said that the natural gas has contributed to enhancing development revenues through reducing costs and generating more jobs, urging industries to benefit from this opportunity and to shift to natural gas.
Newsletter
Get top stories and blog posts emailed to you each day.