You are here
'New law allows journalists at websites, private satellite channels to join syndicate'
By Mohammad Ghazal - Aug 11,2014 - Last updated at Aug 11,2014
AMMAN — The recently endorsed amendments to the Jordan Press Association (JPA) Law will help increase the number of the syndicate's members and introduce major changes to the way its president is elected, JPA President Tareq Momani said Monday.
The new law, which went into effect mid-July, allows those working at news websites, radio stations and private satellite channels to become members of the association after this was restricted in the previous law, Momani told reporters.
The JPA has some 1,100 members at present.
The amended law mandates that all new association members should be holders of at least a bachelor's degree or a diploma in journalism and media.
Those with degrees below the General Secondary Certificate Examination level who have been working for eight years as journalists have a three-month deadline to submit a request to the association to become members provided that they present documents proving they have been working in the profession, Momani said.
Under the new amendments, members who do not pay their subscription fees before the end of March each year will lose their membership.
The law also entails new mechanisms for electing the association president.
Elections will be held from 11am until 5pm to elect a new president. A special committee can be formed to extend the voting for two more hours.
The candidate with the highest number of votes becomes president under the new law, unlike the previous law, which required the successful candidate to have the support of half plus one of the eligible voters.
The deputy president and the members of the JPA council will be elected directly on the same day, according to the amended law, which also entitles the association to receive 1 per cent of the advertisement revenues generated by all media entities including news websites and newspapers, Momani said.
If media outlets refuse to pay the amount, the syndicate will resort to court, he added.
Related Articles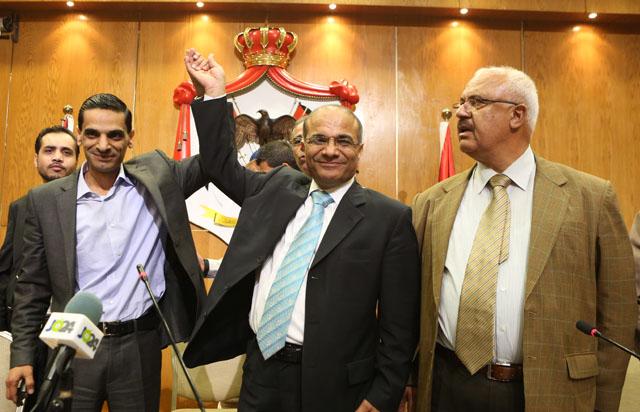 Apr 26,2014
Newly re-elected Jordan Press Association (JPA) President Tareq Momani on Saturday said he will intensify efforts to find solutions for the difficult financial conditions of newspapers. 
Jan 31,2015
Twenty-nine journalists took the oath on Saturday before Jordan Press Association (JPA) President Tareq Momani as new members of the syndicate.
Nov 11,2015
AMMAN — The Jordan Press Association (JPA) council on Tuesday referred media outlets that published photos of the bodies of two women who di
Newsletter
Get top stories and blog posts emailed to you each day.